LCR Meters offer multiple measurement, auto-binning functions.
Press Release Summary: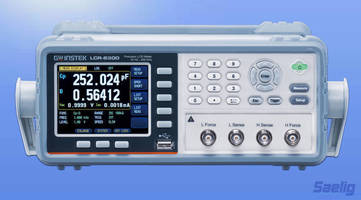 With test frequency range of 10 Hz to 300 kHz and 0.05% basic accuracy, GW Instek LCR-6000 series includes 5 inductance/capacitance/resistance meters that feature 3.5 in. color LCD. Respective display ranges for resistance, inductance, and capacitance are 0.00001Â Ω to 99.9999 MΩ, 0.00001 µH to 9999.99 H, and 0.0000 1 pF to 9999.99 mF. Along with PASS/FAIL output, 2U (1/2 rack) instrument features full frequency range and spot zeroing methods, ALC function, and adjustable test current ability.
---
Original Press Release:

Saelig Introduces LCR-6000 Series Versatile LCR Meters Advanced Features Include Auto-Binning Capabilities



Fairport, NY, USA – Saelig Company, Inc. (www.saelig.com) has introduced GW Instek's economical LCR-6000 series inductance/capacitance/resistance meters, which offer a test frequency range extending from 10Hz up to 300kHz and with 0.05% basic accuracy. The five models in the LCR-6000 series feature a bright 3.5" color LCD with multiple display parameters, showing settings and measurement results, and other helpful data.  In addition to displaying measurements, there is a PASS/FAIL output for rapid and convenient testing, as well as automatic binning applications. The resistance display range is from 0.00001Ohms to 99.9999Megohms, inductance from 0.00001uH to 9999.99H, and capacitance from 0.00001pF to 9999.99mF. This 2U (1/2 rack) instrument is housed in an attractive case with a prop stand for ease of bench-top viewing.



The LCR-6000 series has two zeroing methods: full frequency range and spot. Without turning the power off or changing the test fixture, users may change the operating frequency at will within the instrument's frequency range to conduct accurate measurements. This saves time since there's no need to repeatedly perform a zeroing operation.  Input frequency can be set to a precise value in order to conduct the most authentic testing on components.



The LCR-6000 series also features other ancillary measurements to meet the measurement requirements of different materials. For instance, they provide the automatic level control (ALC) function to satisfy the test voltage requirement of multi-layer ceramic capacitors. For inductive component measurements, the series provides an adjustable test current capability. An optional external bias current adapter (±2.5A) is available also. The LCR-6000 Series features an internal ±2.5V adjustable voltage, but also available is an optional external bias voltage adapter (±45V). Ten built-in test functions allow users to set test parameters either by frequency, voltage, or current as required to observe device behavior trends.



The LCR-6000 series has 10 set-up memory locations to facilitate in selecting test criteria and saving time for repeated test settings. A 10,000 measurement storage capability means that multiple measurement results can easily be stored. The USB host port allows easy access to recorded results without connecting the instrument directly to a PC. The USB host also allows a USB memory device to retrieve or save screen data and to assist users in compiling test setting guidelines. The LCR-6000 series can also be externally controlled via a serial interface, which also gives users an instant means of retrieving measurement results.



Multiple measurement functions and display methods make the series an excellent, cost-effective choice for the requirements of R&D, component assessment for engineering departments, category sorting requirements for component production, and QC for verification of component specifications.



Made by GW Instek, Taiwan's largest manufacturer and developer of high quality test and measurement instruments, the LCR-6000 series LCR Meters are available now from Saelig Company Inc.



Contact:  

Alan Lowne

CEO, Saelig Company Inc.

Tel: (585) 385-1750 

Email: info@saelig.com







More from Electrical Equipment & Systems