LCR Meter can measure impedance parameter with 0.1% accuracy.
Press Release Summary: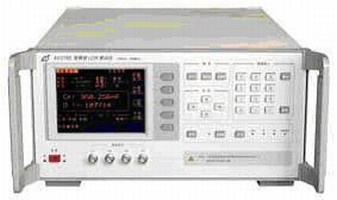 Supporting various configurable test fixtures, Model GAO2782 can measure frequency ranges of 75 kHz to 30 MHz with resolution of 100 Hz. With 5 mV to 2 V signal level range, it has 0.01 W to 10 MW impedance measurement range, 0.1 pF to 100 µF range for capacitance, and 0.1 nH to 100 mH for inductance. Other measurable parameters include dissipation factor, quality factor, conductance, reactance, susceptance, and phase angle.
---
Original Press Release:

GAO Tek Inc. Introduces Precision LCR Meter



Toronto, ON - GAO Tek Inc. has added a Precision LCR Meter, model # GAO2782, to its line of electronic test and measurement instruments.

This Precision LCR Meter can measure impedance parameters including inductance (L), capacitance (C) and resistance (R) with a 0.1% accuracy among other things.

The meter can measure frequency ranges of 75kHz - 30MHz with a resolution of 100Hz. Signal level range is 5mV - 2V. The LCR meter's effective measurement range for impedance is 0.01W -10MW, for capacitance is 0.1pF- 100µF and for inductance is 0.1nH - 100mH.

Other measurable parameters for this LCR meter include dissipation factor, quality factor, conductance, reactance, susceptance and phase angle. The current range of the configurable DC bias current source is 0 -10A. It supports various configurable test fixtures such as slot-type, alligator-type and SMD-type. Optional clip configurations include slot clip, crocodile clip, and SMD clip.

For more information, please refer to http://gaotek.com/index.php?main_page=product_info&cPath=216&products_id=1294

About GAO Tek Inc.

GAO Tek Inc. is a leading provider of test and measurement equipment, embedded development tools, telecommunication testers, electronic measurement instruments, video surveillance, alarm and other electronic products that serve the needs of electronic professionals internationally.

For more information please visit www.GAOTek.com.
For more queries:
GAO Tek Inc.
(416)-292-0038
sales@gaotek.com

Company Name: GAO Tek Inc.
Address 1: 601 Milner Avenue,3rd Floor
City: Toronto, ON
Zip: M1B 2K4
Country: Canada
Phone: 416-292-0038

URL: www.gaotek.com

Contact Name: Greg Angelos
Organization: GAO Tek Inc.
Title: V.P. Sales GAO Tek Inc.
E-mail: sales@gaotek.com

More from Packaging Products & Equipment