LCOS Microdisplays feature active area diagonal of 0.55 in.
Press Release Summary: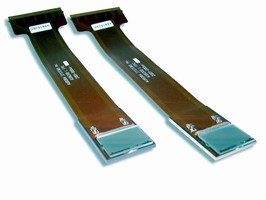 Series ASI 5200 features resolution of 1280 x 768 pixels and is powered by ASI5120 driver IC, while ASI 6200 series is powered by ASIC ASI6120 and has HD resolution of 1920 x 1080 pixels. Digital-drive technology enables efficient drive board design, resulting in compact package for HUD or head mounted display applications. High resolution and ability to use one panel color field sequential solutions make them suitable for near-to-eye and other specialty applications.
---
Original Press Release:

World Debut of Aurora Systems´s Brand New 0.55" LCOS Products at HOLOEYE Systems Booth During SID 2007



San Jose, CA / Westlake Village, CA., May 21, 2007: Aurora Systems, Inc. and HOLOEYE Systems, Inc. are pleased to announce the world debut of the ASI 5200 and the ASI 6200 series LCOS microdisplays to be shown at the HOLOEYE Systems booth during SID Display Week 2007 in Long Beach, California (May 20-25).

Both new chip sets include digital MicroLCD's which have an active area diagonal of just 0.55 inch. The ASI5200 series has a resolution of 1280 x 768 pixels, and is powered by a new driver IC, the ASI5120. The ASI6200 series has a true HD resolution of 1920 x 1080 and is powered by its companion ASIC, the ASI6120. As with previous Aurora LCOS products, the new devices will use Aurora's established all-digital-drive technology. This enables Aurora to take full advantage of the lower cost base offered by the digital approach through the use of standard CMOS process technology.

Aurora will offer MicroLCD's using both types of backplanes with different liquid crystal designs optimized for different applications. Besides the VAN mode designs already available for three panel projection systems, Aurora has developed a fast response time design for single panel, color field sequential systems. This has been implemented first on the ASI5200 series silicon to create a 0.55" color field sequential panel which will be shown at HOLOEYE Systems booth at the SID show (booth #2409).

Jeffrey Saake, CEO and President of Aurora Systems commented, "With the High Definition revolution well underway, the challenge for key component vendors like Aurora is to continue to supply high performance products at ever reducing prices. Aurora's strategy is to pursue this goal by following the well established path of designing smaller silicon chips and integrating more functionality. The new 0.55" products were designed to maintain the image quality standard set by the 0.7" chip set while addressing the market demand for more cost effective solutions. Aurora's engineering team has achieved this by shrinking the backplane diagonal from 0.7" to 0.55". I believe that these new 0.55" products will consolidate Aurora's position as the supplier of choice for the major LCOS projection systems makers such as RPTV and mini projector applications."

Marcel Rogalla, CEO of Holoeye Systems Inc. stated, "The new ASI 5200 and ASI 6200 LCOS products are perfect for many of the specialty markets and applications we serve. These displays and the digital-drive technology enables a very efficient drive board design resulting in a compact package for HUD or head mounted display applications. The high resolution and the ability to use one panel color field sequential solutions will set a new standard for near-to-eye and other specialty applications"

Demonstration systems with both of these new devices will be on display in the Holoeye booth at SID (booth #2409). Development kits for these new 0.55" products, and the rest of the Aurora Product Range, are available now either through Holoeye Systems or from Aurora.

About Aurora Systems

From the heart of Northern California's Silicon Valley, Aurora began in 1997 by a team of the industry's top engineering and business professionals, who set their sights on providing the industry with affordable, high quality, state-of -the-art display technologies. Aurora Systems, as a leader in pushing the technology envelope, has successfully introduced a series of high-resolution LCOS products and video image processors into the market place over the last five years. For more information about Aurora, visit the company's website at aurora-sys.com.

About Holoeye Systems

HOLOEYE Systems is a professional integrator of LCOS microdisplay technologies and offers complete solutions and development services including optical, mechanical and electronic system design, prototype to high-volume manufacturing services, and supply chain management.

More information can be found at www.holoeyesystems.com

Company Name: HOLOEYE Systems, Inc.
Address 1: 2260 Townsgate Road, Bldg 3
City: Westlake Village
State: CA
Zip: 91361
Phone: (805) 214-1007
URL: www.holoeyesystems.com

Contact Name: Klaus von Guenner
E-mail: klaus@holoeyesystems.com

More from Mechanical Power Transmission