LCDs produce optimal brightness under minimal power.
Press Release Summary: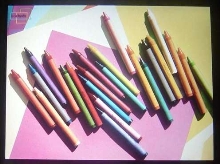 Designed for notebook and tablet PCs, DRIM (Data Rendering Innovation Matrix) LCD panel utilizes pixel structure in which size of green pixels remains the same but that of red and blue pixels are doubled. Products achieve brightness levels of 240 cd/m² and feature 600:1 contrast ratio. Along with Sub Pixel Rendering technology, LCDs utilize Advanced-Fringe Field Switching technology, which supports 180° display angles. At 180 nits of luminance, unit consumes 3.78 W.
---
Original Press Release:

BOE HYDIS Unveils Low Power Consumption, High-Brightness LCDs


- Increases brightness 30 percent with the same power consumption

- Reduces power consumption by 20 percent at standard brightness levels

- Ideal for portable PCs including notebooks and tablet PCs requiring high brightness, low power consumption

August 22, 2005 (Icheon, South Korea) --- High-end TFT-LCD manufacturer BOE HYDIS has successfully developed notebook and tablet PC LCDs that boost display brightness 30 percent-without increasing power consumption-through the application of a new pixel structure to AFFS technology.

The newly developed the DRIM(Data Rendering Innovation Matrix) LCD panel is designed for a 10.4-inch XGA. It achieves unprecedented levels of brightness at 240cd/©Oand boasts an impressive 600:1 contrast ratio.

BOE HYDIS will showcase the product at the Intel Developer Forum (IDF) 2005 which is scheduled to be held from August 23-25 in San Francisco, U.S.A.

In considering that the human eye is more sensitive to green than to blue or red, the DRIM panel applies a new pixel structure in which the size of the green pixels remain the same, while the red and blue pixels are doubled. This, in addition to its utilization of "Sub Pixel Rendering" technology and the company's wide viewing angle technology, differentiates it from the conventional RGB panel and leads to a 30% increase in brightness levels and a 20% decrease in energy consumption.

According to a company test, at 180 nits of luminance, the backlight unit consumes 3.32W and the panel power 0.46W, bringing the total power consumption to 3.78W.

It is designed to reduce the number of driver ICs, which invariably leads to a substantial reduction in manufacturing costs-a goal the LCD industry has long been trying to achieve.

The new LCD panel also adopts the company's innovative AFFS (Advanced-Fringe Field Switching) technology, which supports a 180-degree display angle for both horizontal and vertical viewing, and with its higher brightness, lower power consumption, and greater contrast ratio, it stands as the highest quality LCD in the tablet and notebook PC display industry.

"By improving brightness, power consumption and contrast ratio, which are the common problems associated with mobile PCs, this technology will be in the limelight in the mid- to small-sized portable PC display markets such as notebooks and tablet PCs," explained Jungyeal Lee, head of the R&D Center at BOE HYDIS.

"As notebook PCs become ubiquitous for computing, entertainment, and communication, the need for improved visual performance and longer battery life become paramount," said Kamal Shah, mobility enabling initiative manager, Mobile Platforms Group, Intel Corporation and chairman, Mobile PC Extended Battery Life Working Group. "The innovations by BOE HYDIS clearly point to a future where brighter, higher contrast, and wider viewing angle displays are possible while keeping both the cost and power consumption down."

BOEHYDIS(BOE HYDIS TECHNOLOGY CO., LTD.)

BOE HYDIS is a high-end TFT-LCD manufacturer formerly under the name HYNIX Semiconductor. It was incorporated into China's BOE Technology Group Co., Ltd. in January 2003.

As the producer of AFFS (Advanced Fringe Field Switching) technology, the company earned recognition in the LCD industry. Currently, BOE HYDIS holds the largest market share in the world for the tablet PC TFT-LCD industry. Starting with the TN/STN project and the TFT business, launched in 1992 and 1996 respectively, the company now operates three TFT-LCD production lines in Icheon, Korea.

BOE HYDIS currently develops and manufactures small mobile products (1.8-inch, 2-inch and 2.2-inch). Its mid- to large-size panel productions include notebook PC (12.1-inch and 14.1-inch), tablet PC (10.4-inch, 12.1-inch and 15-inch), monitors (15-inch and 17-inch), and LCD TV applications (15-inch, 20.1-inch, and 32-inch). The company also produces specialized value added displays for medical, avionics and gaming applications. For more information, please visit us at www.boelcd.com.

Contact

Kwon S. G. / Manager, Public Relations Group, BOE HYDIS
Tel: +82-31-639-7436 / sgkwon@boehydis.com

O. J. Kwon / Assistant Manager, Public Relations Group, BOE HYDIS
Tel: +82-31-639-8207 / ojkwon@boehydis.com

More from Electronic Components & Devices