LCD Touch Panel Monitor remotely checks alarm probes.
Press Release Summary: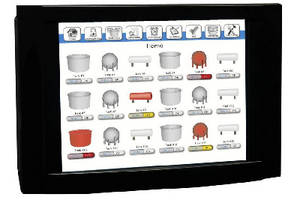 Intended for overfill protection applications, Model MCG 7030 is compatible with MCG 1090 and MCG 1095 Level Alarm Probes. When interfaced with multiple tanks, monitor provides information on probe status, event history, test history, field status, and tank details. Up to 100 separate alarm probes can be monitored by using single, 4-wire data highway. When coupled with existing gauging or SCADA system, MCG 7030 can function as alarm data acquisition station.
---
Original Press Release:

L&J Engineering Announces MCG 7030 Touch Panel Alarm Monitor



Hillside, IL - L&J Engineering is pleased to introduce the latest MCG 7030 Touch Panel Alarm Monitor to its line of overfill protection equipment.

Compatible with the MCG 1090 and MCG 1095 Level Alarm Probes, the MCG 7030 offers the end user complete remote checking of the alarm probes at their fingertips. With a number of significant improvements over its predecessor, the MCG 7000, the MCG 7030
features a user-friendly touch screen LCD panel. Interfaced with multiple tanks, the MCG 7030 offers the end user information on probe status, event history, test history, field status and tank details.

"The MCG 7030 is another great example of L&J Engineering's innovations for the overfill protection market," Product Manager Jim Jannotta said. "Its design is user friendly and ensures maximum reliability in critical level alarm applications."

The MCG 7030's touch screen selectable system allows the user to easily monitor the status of their tanks, probes and alarm controls. Weighing only 7.9 pounds, the MCG 7030 Alarm Monitor can be mounted almost anywhere because of its efficient design (11.82" width x 8.1" height x 2.17" depth). Up to 100 separate alarm probes can be
monitored by the MCG 7030 using a single, 4 wire data highway. When coupled with an existing gauging or SCADA system, the MCG 7030 can function as an alarm data acquisition station.

A wireless communication option is also available for the MCG 7030 when used in conjunction with the MCG 1095 wireless level alarm probe. This system uses highly reliable frequency hopping spread spectrum technology with custom encrypted L&J wireless protocol. By combining the MCG 7030 and MCG 1095, a facility can have the only
truly independent self© esting overfill protection system on the market.

About L&J Technologies

L&J Technologies companies include L&J Engineering, Shand & Jurs (S&J), GPE, Omnitrol, and Delavan. L&J is a global manufacturer of tank level gauging and tank fitting equipment, steel processing equipment, waste water control systems technology and related products. L&J is a manufacturer that prides itself on 90 plus years of
supplying the industry with only the finest American Made components and equipment. Custom engineering services, reliable and innovative technology, a complete field service team, and a state of the art manufacturing facility help L&J to build productive relationships with customers, representatives and suppliers. L&J provides
quality products for many industries, including Petroleum, Petrochemical, Chemical, Food, Pharmaceutical, Pipeline, Wastewater, Steel, and Water Treatment.
For more information on L&J Technologies: www.ljtechnologies.com

Contact:

Mona Latif

Marketing Coordinator

(708) 236© Euros0 x139

mlatif@ljtechnologies.com

More from Fluid & Gas Flow Equipment