LCD Preset Counter suits maintenance applications.
Press Release Summary: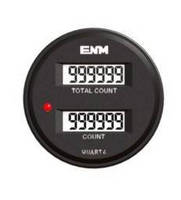 Housed in sealed IP67-rated enclosure, PC12 Series features two 6-digit, 7-segment LCDs with channel 2 programmable by customer. Service LED light informs operator when preset value setting is reached. Accumulated counts are stored on powerless, non-volatile data backup using CMOS EEPROM technology, ensuring that data is saved even during power outage. With key lock feature, unauthorized access to reset and programming functions is prevented.
---
Original Press Release:

ENM Series PC12, LCD Preset Counter for Maintenance



ENM's series PC12 features two 6-digit, 7 segment LCD displays with channel two being programmable by customer. The service LED light informs the operator when the preset value setting is reached. The accumulated counts are stored on powerless, non-volatile data backup using CMOS EEPROM technology. The storage of data using this method does not depend on an internal battery and this will ensure that data are kept even during power outage. This model is ideal for maintenance applications or other applications that required keeping accurate counts of events.



Special functions:

• Allows customer to preset total counts and replace a failed meter without loss of total counts

• Key lock feature to prevent unauthorized access to meter's reset and programming functions

• Ease of connection with 10 pin wire harness with locking feature included



Features

• Non-volatile memory (no battery)

• High reliability

• Totally sealed IP67

• Low cost and small size

• Low operating current

• Wide operating voltage and temperature range

• Interlock input (the reset and preset input are disabled)

• Relay and LED output

• Self programmable or factory set

• 10 pins connector wire harness included

• Polarity insensitive for the DC power input

• Solid State Electronics

• Quartz Crystal

• Made in the U.S.A.



Display: 999999 Counts (both displays)

Automatic recycle to zero

Character height: Large 6-digits 7mm

Operating Voltage: 85-265 VAC 50/60 Hz (90-360 VDC) or 10-40 VDC

Operating current: 6mA nominal (50mA when LED and relay on)

Operating temperature: -25C to +85C (-13 F to + 185 F) for the AC model

-40 C to + 85 C (-40 F to + 185 F) for DC model

Count Speed: 20 C.P.S. for standard for AC/DC

250 C.P.S. speed count is available for DC

Vibration resistance: Withstands 10 to 75 Hz. at 1 to 8 G's

Protected from: Alternator load dump, inductive switching and reverse polarity

Configuration: Round SAE bezel with new push-on retaining ring. Other mounting styles are also available



ENM Company

5617 Northwest Highway, Chicago, IL 60646-6135

(773) 775-8400 • Fax: (773) 775-5968

Toll Free (888) 372-0465 • e-mail: customerservice@enmco.com



web site: www.enmco.com



More from Test & Measurement