LCD Modules operate on solar power.
Press Release Summary: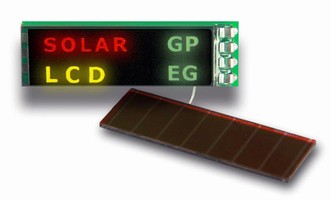 SolarLCD Modules combine solar panels, microcontrollers, low-voltage LC fluids, and hidden circuit board. Devices offer programmable, customizable message sequencing and do not require battery power. They can have up to 4 custom icons in positive or negative mode, with thickness options from 3 mm to less than 1 mm. Working indoors and outdoors, RoHS-compliant displays are rated for 50,000 hour life.
---
Original Press Release:

Energy Harvesting LCDs - Moving Customized Messages Without Power!



Pittsford, NY: SolarLCD is an entirely new range of standard and custom RoHS-compliant displays which work in combination with special low cost solar panels, ultra-low power custom microcontrollers and special low-voltage LC fluids to create novel and highly customizable display systems. SolarLCD solar-powered LCD modules offer programmable, customizable message sequencing in a zero-power, long-life, low-cost, green-solution display technology. Custom designs are quickly and economically fabricated, allowing customers enormous flexibility.

SolarLCD can have up to 4 custom icons in positive or negative mode, with thickness options from 3mm to <1mm. With the special solar panel as power source, no battery is required - yet SolarLCD works indoors and outdoors. Rated for 50,000 hour life, SolarLCD comes in a wide standard range - but totally customized size solutions are also possible. The hidden circuit board supplies the programmability with minimal components. In the standard version, a graphic can be placed behind the LCD which disappears when the segment is turned to its black state, although SolarLCD's major advantage is that the display is totally customizable.

In one application, for instance, a segmented transparent glass panel with interchangeable printed graphics was developed for the corporate gift market. Small enough to fit into the barrel of a pen, the unit is 100% battery-free, and is used to reveal branded logo's in a variety of sequences. Built with low cost and low power in mind, SolarLCD is creating significant interest from consumer application designers. Other applications include toys, retail advertising, remote signs, promotional items, etc.

Designed in Europe by GPEG - a leading global supplier of standard and custom flat panel display solutions, who use their own in-house production facilities as well as external technology providers to create stunning displays that are bright, clear and easy to use. Tooling set-up for a customized SolarLCD is around $1K (MOQ 1000 pcs @ ~$2ea). More details at www.gpegint.com or from GPEG's USA distributor Saelig Company Inc. 1-888-7SAELIG, info@saelig.com, saelig.com.

More from Agricultural & Farming Products