LCD Modules feature wide viewing angles.
Press Release Summary: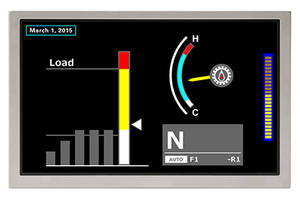 Suitable for industrial applications, LCD Modules are in available in 8.0, 12.1, 15.0 and 15.6 in. models with 800 x 480, 1280 x 800, 1024 x 768 and 1920 x 1080 pixels. Offering 176˚ horizontal and vertical viewing angles, 8.0 in. and 15.6 in. models deliver luminance of 1000 cd/m² and 1500 cd/m² respectively whereas 12.1 and 15.0 LCDs with 160˚/160˚ (H/V) viewing angle and 1600 cd/m² luminance. 8.0, 12.1 and 15.0 LCDs come with LVDS interface and 15.6 with eDP interface.
---
Original Press Release:
Tianma NLT USA Introduces New LCD Modules with Ultra-High Luminance
Tianma NLT USA has introduced four new outdoor viewable liquid crystal displays: an 8.0-inch diagonal WVGA, a 12.1-inch WXGA, a 15.0-inch XGA, and a 15.6-inch Full HD. These modules, developed by NLT Technologies, Ltd., a Tianma Group company, are ideal for industrial applications needing superior viewing in outdoor or other high ambient light environments, such as boating equipment and construction devices.
Ultra-high luminance
The 12.1-inch wide and 15.0-inch modules have a luminance of 1600cd/m², the 15.6-inch wide model has a luminance of 1500 cd/m², and the 8.0-inch wide model has a luminance of 1000 cd/m². The ultra-high luminance results in displays with vivid colors and excellent visibility, even in environments of intense light such as direct sunlight.
Wide operating temperature range
Each of these new products also features wide operating temperature ranges. The 8.0-inch wide model has an especially wide operating temperature range of -40 to +85°C, which allows for accurately displayed images even at very low and high temperatures and in environments with large temperature fluctuations.
Enhanced display performance
The 8.0-inch wide and 15.6-inch wide modules incorporate NLT's proprietary SFT (Super Fine TFT) wide viewing angle technology. This technology provides ultra-wide viewing angles of 176 degrees horizontally and vertically and reduces color shift that may occur with changes in the viewing angle, ensuring clear images without visual stress in various operating environments.
With the development of more and more industrial display applications, demand for display products designed to withstand outdoor conditions is continuously growing. These new modules not only feature the ultra-high luminance that improves visibility in intense ambient light environments, but also guarantee superior performance under various operating conditions.
Tianma and NLT Technologies will continue to enhance their product line-up to address the wide range of various operating conditions, display sizes and resolutions needed to meet the various demands of the industrial market.
Samples of these new LCD modules will be showcased at Display Week 2017, May 23 to 25 in Los Angeles, California, USA, in booth 1005, and at Computex Taipei May 30 to June 3 in Taipei, Taiwan.
Main specifications of ultra-high luminance models
      Size                      8.0-inch Wide                    12.1-inch Wide                    15.0-inch                           15.6-inch Wide
Part number               NL8048BC21-03F             NL12880BC20-25F            NL10276AC30-52C              NL192108BC18-06F
Interface                      LVDS                               LVDS                                 LVDS                                 eDP
Pixels                        800 x 480                         1280 x 800                        1024 x 768                           1920 x 1080
Luminance                 1000 cd/m²                      1600 cd/m²                        1600 cd/m²                         1500 cd/m²
Viewing angle (H/V)    176˚ / 176˚                        160˚ / 160˚                          160˚ / 160˚                            176˚ / 176˚
Surface treatment          AG                                   AG                                 Clear + AR                              AG
Operating temperature  -40~+85 ˚C                 -20~+70 ˚C                           -30~+70 ˚C                         -30~+85 ˚C
Remarks                      SFT   Color gamut        ColorXcell                           Built-in LED driver                     SFT
                                    72% Long-life LED                                                   board T-EVT 
                                 Vibration resistant to 6.8G
MP                                Year 2017                    Done                                        Done                                Done
About Tianma NLT USA, Inc.
Tianma NLT USA is the leading provider of small to medium size display solutions to the Americas market utilizing advanced technologies from Tianma Microelectronics and NLT Technologies Ltd., coupled with the manufacturing resources of the Tianma Group. Applications include smartphones, tablet PCs, industrial and medical instrumentation, wearables, home automation, household appliances, office equipment, and automotive and rear seat entertainment devices, as well as test and measurement systems, instrumentation equipment, point-of-sale and ATM systems, gaming systems, global positioning systems, radio-frequency identification devices and barcode scanners.
Technologies include TFT, LTPS, Oxide-TFT, AM-OLED, flexible, transparent, 3D, PCAP and In-cell/On-cell integrated touch. With a network of best-in-class distributors and value-added partners, Tianma NLT USA provides complete display module solutions for a broad base of customers and applications. The range of display features offered includes ultra-high resolutions, wide temperature ranges, high contrast ratios, rich color gamut, backward compatibility, LED backlights, high bright and transflective viewing for use in diverse lighting environments.
For more information, contact
Tianma NLT USA, Inc.
13949 Central Ave.,
Chino, CA 91710
Telephone: (909) 590-5833
E-mail: info@tianma.com
More from Communication Systems & Equipment