LCD Module operates in temperatures from -20 to +70°C.
Press Release Summary: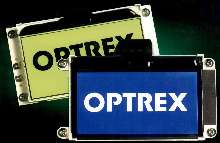 Monochrome, STN-transmissive, 128 x 64 dot, chip-on-glass (COG) Series F-51553, with 2.8 in. diagonal area, displays text and graphics. Offered in blue and yellow versions, backlit display, with 6:1 contrast ratio, provides temperature stability though use of liquid crystal fluid with flat voltage vs operation temperature characteristic. Supporting serial and parallel interfaces, it incorporates controller, row and column drivers, and booster circuit in one chip.
---
Original Press Release:

New Optrex F-51553 Series 128 x 64 LCDs Offer Wide Operating Temperature and Serial Interface Option


Plymouth, MI, February 2003 - Optrex America's new F-51553 series of 128 x 64 dot COG (chip-on-glass) monochrome STN transmissive LCD modules feature a 2.8" diagonal area that can display text and graphics together, providing an economical step up from straight character displays for applications requiring an integrated text/graphics messaging solution.

The new F-51553 modules provide a wider temperature range (-20°C to +70°C) than Optrex's popular F-51320 Series COG monochrome LCDs. They also provide greater temperature stability (though use of a liquid crystal fluid with a flat voltage vs. operation temperature characteristic to enable operation over the entire temperature range without the need for voltage adjustment). The F-51553 supports serial as well as parallel interface, allowing designers the option of specifying their desired interface type.

The Blue Mode version (P/N F-51553GNBJ-LW-AB) displays white characters or graphics on a blue background, features a highly efficient 3-chip white LED backlight, and offers a contrast ratio of 6:1.

The Blue Mode F-51553 LCD has a total power consumption of only 0.385W max. because of the higher efficiency white LEDs used in its construction. This reduces the problem of heat dissipation for components where that is a particularly sensitive issue, such as servers or hand-held monitoring instruments.

Optrex also offers a Yellow Mode version of the F-51553 series (P/N F-51553GNYJ-LY-AA), with a black display on a yellow-green background. It incorporates a 28-chip yellow LED backlight, and offers a contrast ratio of 4.5:1. Its total power consumption is 1.35W max.

Both LCDs' high level of component integration saves valuable design, sourcing and set-up time. Unlike other COG LCDs, they incorporate a backlight as well as mounting features. Controller, row and column drivers and a booster circuit are incorporated into a single chip. The use of the on-board voltage booster circuit ensures the proper voltage for driving the LCD panel without the use of an external DC-DC converter.

In addition, Optrex, the LCD Total Solution Provider, provides full U.S. engineering support for the F-51553 Series, as well as easily accessible application notes and links to controller manuals on its web site -- www.optrex.com.

Pricing for the Blue Mode F-51553 Series LCD (P/N F-51553CNBJ-LW-AB) is $16.64 each in 1,000-piece quantities. Pricing for the Yellow Mode unit (P/N F-51553CNYJ-LY-AA) is $14.79 each in 1,000-piece quantities. For additional pricing details, contact Optrex America.

For more information, contact Holly Konrad at Optrex America, Inc., 46723 Five Mile Road, Plymouth, MI 48170. Tel: 734-416-8500; Fax: 734-416-8520; Email: lcdinfo@optrexusa.com; Web: www.optrex.com.


More from Electrical Equipment & Systems