LCD Maintenance Hour Meter provides 2 preprogrammed alerts.
Press Release Summary: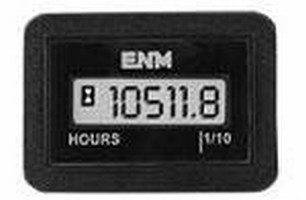 Self-powered Series T49 LCD hour meter has 2 factory programmed flash alert maintenance reminders to help operators know when it's time to perform service. Panel meter operates with ±0.01% accuracy from 8-32 Vdc source and consumes 1.5 mA at 8 Vdc and 8 mA 32 Vdc. With 6-digit display reading 99999.9 hours, polarity protected meter is 100% sealed, tolerates temperatures from -40 to +185°F, and is humidity and vibration resistant to SAE J1378.
---
Original Press Release:

T49 Electronic LCD Hour Meter with Dual Preprogrammed Maintenance Alerts



ENM's Series T49 LCD 6-digit hour meter has two factory preprogrammed flash alert maintenance reminders to help operators know when it's time to perform service. The meter is self-powered, keeping total running time displayed at all times.

The T49 operates from 8V-32VDC source and consumes 1.5mA, maximum, @ 8VDC and 8mA @ 32VDC. Accuracy is better than +/- 0.01% over entire range.

The meters are available for the OEM customers with the desire to preset time intervals. The meter is 100% sealed and protected from shock and vibration to keep out the harshest environments and provide years of service. This instrument is ideal for any application that requires reliable time keeping and services maintenance schedule's in a small space. It's easy to install and fits three panel thickness.

Datasheet can be found at www.enmco.com/pdf/679.PDF

Features

o Low power Consumption
o Low cost and small size
o Silent operating, No moving Parts
o High shock and vibration specs.
o Solid State electronics
o Wide operating Temperature and voltage
o Special Flash Alert Programming
o Special spade orientation
o 100% sealed
o High reliability
o Polarity protected
o Quartz Crystal
o ISO 9001 Certified
o Made in the U.S.

Specifications:

o Display Reading: 99999.9 Hours meter and Hour glass as running indicator
o Digit Height: 6-digits, (.216") [5.5MM] LCD
o Operating Voltage: Input range 8V-32VDC, other voltage are also available
o Power Consumption: app. 1.5mA, maximum @ 8VDC and 8mA, @ 32VDC
o Accuracy: Better than +/- 0.01% over entire range
o Temperature: Standard -30C to +85C (-40F to +185F)
o Humidity: 95% SAE J1378
o Vibration Resistance: SAE J1378
o Termination 1/4" male blade terminals
o Mounting: Rectangular with snap in clip

About ENM
ENM Company is proud to have a product line that covers almost any counting or timing application. We can also modify any existing standard design to accommodate your needs. With ENM as a supplier, you will have the highest quality, quickest delivery, and the expertise of over 45 years of experience as an OEM supplier of counters and hour meters on your side. And we're ISO 9001:2000 registered.

ENM products are used by original equipment manufacturers in medicine, office products, casinos, off-road equipment, standby generators and other fields


More from Test & Measurement