LCD Displays have high-contrast black background.
Press Release Summary: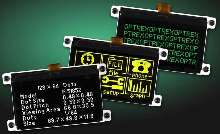 RoHS-compliant, monochrome LCDs incorporate negative mode panel with internal black mask and color LED black light. Flat liquid crystal fluid allows products to support 5 V operation over -20° to +70°C temperature range without temperature compensation circuit. Sizes range from 2.8-5.2 in. diagonal, and colors include white, blue, green, or yellow. Displays range from 40 character x 4 line to 16 x 2 with 128 x 64 to 240 x 64 dot pixel resolution.
---
Original Press Release:

New High-Legibility Optrex Graphic and Character LCDs Offer Range of Color Options in 6 Industry-Standard Configurations


Plymouth, MI, October 2004 - A new family of high-legibility monochrome graphic and character LCDs from Optrex America offers the designer a range of display solutions for matching the information display to the look and feel of the end product.

The new LCDs offer the designer a unique combination of performance enhancements. These include a uniform, high-contrast black background for improved legibility, a variety of display colors to choose from, wide operating temperatures, industry standard configurations, compatibility with existing Optrex modules, and RoHS compliance. Applications include consumer audio (such as MP3 players), industrial test and process control equipment, computer peripherals, industrial panel meters and data collection displays, high-end white goods, and medical instrumentation.

"The key is flexibility," said John Cramer, Optrex America's Marketing and Business Development Manager. "The designer wants to differentiate his company's product in the marketplace, and he needs a display module, whether it's for characters or graphics or both, that provides a synchronicity with the theme - the look and feel - of his company's product line. With our new module family, we can offer the mix of color, size, dot pixel format and industry-standard configuration that's just right for the designer's individual requirements."

Optrex's new high-legibility graphic and character LCDs utilize the company's High Performance Partial Color technology, which incorporates a high-contrast negative mode panel utilizing an internal black mask and color LED black light to provide a uniform, high-contrast black background for easier viewing. They offer the designer a choice of colors - white, yellow, green, blue and others - all with a consistent background look. They are mechanically and electrically compatible to Optrex's existing monochrome character and graphic LCDs, providing an easy upward migration path for designers.

The modules utilize a flat LC (liquid crystal) fluid for minimal voltage change over the operating temperature range, allowing them to support 5V operation over their entire -20° to +70° C temperature range without the need for a temperature compensation circuit.

Optrex's new LCD family includes a series of graphic and character modules in six industry standard configurations.

Optrex's new high-legibility monochrome graphic LCDs include the F-51852 series of 2.8-inch diagonal modules with a 128 x 64 dot pixel resolution for display of characters and/or graphics in white, blue, green or yellow. Mechanically compatible with Optrex's existing F-51553 series, the new modules offer a selectable 8-bit serial or parallel interface and a built-in controller. (The F-51852GNFQH-LW-AFN graphic module offers an extra-wide operating temperature range of -30° to +80° C.) The new F-51851 series of 5.2-inch diagonal monochrome graphic LCDs feature a 240 x 64 dot pixel resolution with 8-bit parallel interface and built-in controller. They are mechanically compatible with Optrex's existing F-51405 series.

New Optrex high-legibility monochrome character LCDs include the C-51847 series, which features a white, blue or green 20 character x 4 line display and is mechanically and electrically compatible with Optrex's DMC-20481 series. C-51848 series modules offer a white, blue or green 16 x 2 display and are compatible with Optrex's DMC-16230 series; C-51849 series modules have a white, blue or green 40 x 4 display and are compatible with Optrex's DMC-40457 series; and the new C-51850 series LCDs feature a 40 x 2 display in white, blue or green and are compatible with Optrex's DMC-40202 series. Additional colors for the new family of character modules are also available.

All of the new modules are "green" products, built in complete compliance with the European Union's RoHS (Reduction of Hazardous Substances) directive that restricts the use of certain hazardous substances such as lead, mercury and cadmium in electrical and electronic equipment by July 2006.

Pricing for Optrex's new F-51852 Series 2.8-inch diagonal high legibility graphics modules starts at $19.07 in OEM quantities. For detailed pricing information, contact your authorized Optrex distributor.

For more information, contact John Cramer at Optrex America, Inc., 46723 Five Mile Road, Plymouth, MI 48170. Tel: 734-416-8500; Fax: 734-416-8520; E-mail: jcramer@optrexusa.com; Web: www.optrex.com.

Optrex is a world leader in the design and manufacture of OEM liquid crystal displays (LCDs) for an expanding line of products that includes displays for telecommunications and non-PC Internet devices; test, measurement and diagnostic instruments; handheld data management equipment; and automotive and avionics displays. Founded in 1976, Optrex has followed an aggressive policy of growth and expansion and now serves customers through an extensive in-field network of applications engineers and more than 100 sales and distribution offices throughout the world. The Optrex technology palette includes Active-MLA (multi-line addressing), TFT (thin film transistor), VHC (very high contrast), STN (super twisted nematic), HPC (high performance color) for car audio applications, TFCC (trim fine crystal color) for color mobile products, and OLED (organic light emitting diode).

More from Test & Measurement