LCD Automotive Cluster Display has corner-cut design.
Press Release Summary: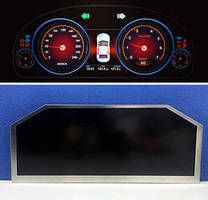 Designed to replace analog automotive cluster displays, 12.3 in. A-Si TFT LCD HD (1920 x 720) automotive cluster display can be programmed to provide critical information to driver. Super fine TFT (SFT1) display technology maximizes viewing angle, while high-intensity backlight produces 1,000 cd/m² for sunlight readability. Cut on top corners, design fosters facilitated fitting in automotive clusters.
---
Original Press Release:

Tianma NLT USA Announces 12.3-Inch Automotive Cluster Display with Corner-Cut LCD from Tianma Micro-Electronics



Corner-Cut Design an Easy Fit into Automotive Clusters



CHINO, CA – Tianma NLT USA has announced a 12.3-inch A-Si TFT LCD HD (1920 x 720) automotive cluster display with corner-cut design developed by Tianma Micro-electronics.



Designed to replace analog automotive cluster displays, it is compatible with the outline of a typical automobile cluster in which the display can be programmed to provide critical information to the driver. Tianma uses super fine TFT (SFT1) display technology for a wide viewing angle and a high intensity backlight that provides a brightness of 1,000 cd/m2 for sunlight readability.



As opposed to competitive LCDs that have a rectangular shape, Tianma Micro-electronics' display is cut on the top corners, providing a design that fits more easily into automotive clusters.  Tianma will provide a design spec upon request.



A prototype of the new 12.3-inch automotive cluster display will be at SID Display Week 2016, May 24-26, San Francisco, CA, in booth 905.



When this display goes to production, it will be available for OEM sales through Tianma NLT USA.   For more information regarding OEM sales, contact Tianma NLT USA, Inc., 13949 Central Ave., Chino, CA 91710. 1-909-590-5833; info@tianma.com; usa.tianma.com.



1 SFT (Super fine TFT) is a proprietary technology, comparable to IPS, developed by NLT Technologies, a Tianma Group company



About Tianma NLT USA, Inc.

Tianma NLT USA has been established to be the leading provider of small to medium size display solutions to the Americas utilizing cutting edge technologies from Tianma Micro-electronics and NLT Technologies Ltd., coupled with the manufacturing resources of the Tianma Group. Applications include smartphones, tablet PCs, industrial and medical instrumentation, wearables, home automation, household appliances, office equipment, and automotive and rear seat entertainment devices, as well as test and measurement systems, instrumentation equipment, point-of-sale and ATM systems, gaming systems, global positioning systems, radio-frequency identification devices and barcode scanners.



Technologies include TFT, LTPS-TFT, Oxide-TFT, AM-OLED, flexible, transparent, 3D, PCAP and In-cell/On-cell integrated touch technology. With a network of best-in-class distributors and value-added partners, Tianma NLT USA provides complete display module solutions for a broad base of customers and applications. The range of display features offered includes ultra-high resolutions, wide temperature ranges, high contrast ratios, rich color gamut, backward compatibility, LED backlights, high bright and transflective viewing for use in diverse lighting environments.



The content in this press release, including, but not limited to, product prices and specifications, is based on the information as of the date indicated on the document, but may be subject to change without prior notice.

More from Electronic Components & Devices