Sensors / Detectors / Transducers
LBFS Series Sensors offer quick adaption to changing process requirements.
Press Release Summary: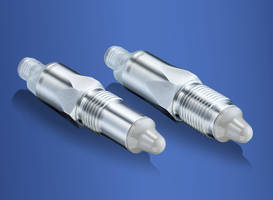 Available in LBFH and LBFI variants, CleverLevel LBFS Sensors offer two switching outputs, qTeach and 360° output status indicator. Ensuring reliable detection of sensor faults and wire breaks, units feature complementary trigger point setting. Providing reliable feedback on parameterization steps using multicolored switching status indicator, each sensor can perform two different process steps like production and cleaning.
---
Original Press Release:
New CleverLevel LBFS Models with More Interfaces for Optimized Communications
Baumer has expanded the successful CleverLevel series with two new variants - the LBFH and LBFI. They are available with two switching outputs, qTeach and a 360° output status indicator. In the same way as their predecessors the level switches are based on frequency deviation technology and are suitable for both hygiene and industrial applications. The level switches offer various programming options to suit different requirements. The convenient qTeach procedure is of great advantage especially for small installations with simple control systems. The sensors can be easily adjusted with any ferromagnetic tool, thus making it possible to quickly adapt to changing process requirements on site. The two switching outputs make it possible to set two trigger thresholds. This means two different process steps, such as production and cleaning, or two media groups, such as water and oil, can be monitored with one sensor. This saves on storage and costs. The two switching outputs facilitate a plausibility check of the sensor. Complementary trigger point setting ensures sensor faults and wire breaks are reliably detected, thus guaranteeing effective monitoring of all processes. The multicolored switching status indicator provides reliable feedback on all parameterization steps to support effective process control. Both variants are suitable for use in temperatures up to 135°C while the variant for hygiene applications has SIP capabilities.
Further information: www.baumer.com/ CleverLevelBaumer at SPS IPC Drives: Hall 4A, Booth 335 Photo: Thanks to their flexible integration properties and ease of use, the CleverLevel LBFH and LBFI are the ideal solution from planning to maintenance for all systems.
The Baumer Group is an internationally leading manufacturer of sensors, encoders, measuring instruments and automated image-processing components. Baumer combines innovative technology and customer-oriented service with intelligent solutions for factory and process automation and provides a unique range of products and technologies. The family company has around 2,300 employees with manufacturing facilities, sales offices and agents in 37 offices and 19 countries, always close to the customer. With consistently high quality standards worldwide and a huge potential for innovation, Baumer brings their customers critical advantages and measurable added value across many industries. For further information, visit www.baumer.com on the Internet.
Baumer USA
122 Spring St., Unit C-6
Southington, CT 06489
USA
Jones Jeremy
Phone: +1 (860) 620 63 75
Fax: +1 (860) 628 62 80
jjones@baumer.com www.baumer.com