LazerArc Launches Tool Tray Transfer System with Infinitely Programmable Positions
Press Release Summary: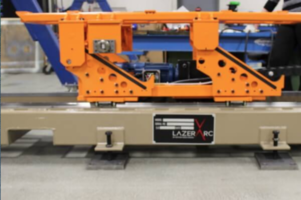 LazerArc's Tool Tray Transfer System is designed for shifting the tooling or part at a specified distance with an accuracy of ±0.0003 in. per ft. The system's position can be programmed using AC motor with encoder or servo motor control. Unit comes with tubular steel construction for managing large loads and mechanical lift options which allow the movement of lower (horizontally) and upper (vertically) carriages.
---
Original Press Release:
LazerArc Expands Product Offerings with New Lift and Shift Positioning Unit
LazerArc continues to expand the company's positioning product lines. This new lift and shift unit combines tool tray transfer linear motion with a mechanical lift option.
LazerArc's low profile Tool Tray Transfer System is used to precisely shift the tooling or part linearly at the customer specified distances with a standard accuracy – DIN 6 on gear rack +/-0.0003"/ft. It has an infinitely programmable position through the use of an AC motor with encoder or servo motor control, eliminating the use of typical shot pins required due to the gearing position and low backlash gear reducer. The robust structural tubular steel construction is designed for easy maintenance and to manage large loads.
LazerArc lift tables are also manufactured with tubular steel to last in hostile environments and lift large loads. The mechanical lift option initiates when the lower tool tray carriage runs an upper carriage against a fixed linear guideway. As the lower carriages moves horizontally, the upper carriages moves vertically.
There is a linear guide at both ends of the tool tray. On one side is the lift and the other is the lower motion, eliminating the need for any other electromechnical or pneumatic devices to do the vertical lift separate from the horizontal transfer. The single gear motor design saves space, reduces cost and maintenance.
LazerArc made this unit buildable and functional from the design and concept of DeSign Group, a South African integrator of machinery for a variety of applications, including automotive. 
Watch the new LazerArc lift and shift option in motion: https://youtu.be/Ua4ZGv0w-NA
LazerArc uses a combination of zero backlash cam systems with low backlash gear heads to achieve high accuracy and repeatability on all systems. LazerArc positioning systems are not catalogued items but customer specified assemblies designed to fit your application. They are capable of fitting into your automated robotic systems and units can be adapted to your specific servo motor or robot brand to expand manufacturing capabilities. Every application for positioning systems is different and each customer should be treated with any specific differences in mind. To discuss your needs for LazerArc custom positioning systems visit: https://lazerarc.com/
More from Mounting & Attaching Products