Lazer Safe Press Brake Guarding Systems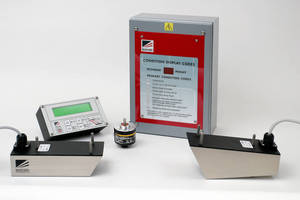 This September saw the publication of the new ANSI B11.3 - 2012 standard for press brakes. A key addition to the standard is the inclusion of close proximity point of operation safeguarding devices. Also known as Laser AOPD, the technology behind these devices was relatively new to the global press brake market ten years ago and at the time of the last B11.3 review in 2002 Laser AOPD systems were primarily used in the European Union and shortly after in 2003 started coming into use in the US as a retrofit solution for existing machine. Since that time Laser AOPD have become standard systems for many press brakes sold in the US today, both on imported machines and those manufactured locally. The inclusion of Laser AOPD technology in the B11.3 is a welcome addition to the standard that now gives press brake manufacturers, dealers and users a clear guideline to implementing this technology safely.

The Lazer Safe LZS-003-HS press brake guarding system is the only retrofit system currently available in the US market that fully complies with B11.3. The LZS-003-HS features a laser transmitter and receiver that are mounted on the upper ram of the press. Two continuous parallel flat-band lasers provide a 40mm protective zone directly below the punch, allowing the operator to remain close to the work piece as the tools close at high speed. If an obstruction is detected the ram movement is stopped so that the punch cannot make contact with the obstruction.

Key features include; automatic speed and overrun monitoring, optical protection to 6mm tool opening, automatic mute-point set-up and monitoring, 6mm change of speed point, high speed tool collision protection, quick adjustment after tool change, simple and easy to operate.


More from Software