Lavatory System combines soap, water, and dryer in one space.
Press Release Summary: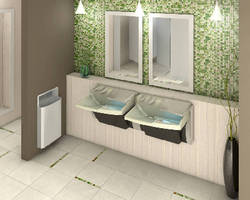 To wash hands with Advocate™ AV-Series Lavatory System, users intuitively move hands from left to right, beginning with touchless infrared soap dispenser, touchless infrared 0.38 gpm faucet, and finishing with infrared dual-sided hand dryer, which dries hands in 15 sec or less. All-in-one design eliminates hazards and mess of water on floor or down walls. Available in single-, 2-, or 3-user models, lavatory is made with Terreon® solid surface material and is ADA compliant.
---
Original Press Release:

The Future of Handwashing is in Close Reach with Bradley's New Advocate(TM) Lavatory System



- Exclusive Design With Soap, Water and Hand Dryer in One Space Keeps Water From Dripping on the Floor -



MENOMONEE FALLS, Wis. — Bradley Corp., the industry leaders in commercial hand washing innovation, breaks new ground with the introduction of its Advocate™ AV-Series Lavatory System –  the first lavatory unit to provide a sink, soap, faucet and dual-sided hand dryer all in one sleek and high-tech unit (www.bradleycorp.com/advocate).  

Having soap, water and hand dryer all within immediate reach, the Advocate Lavatory System raises the bar for convenience, comfort and safety in commercial washrooms.  Since all hand washing elements are close by, the user needn't move from the station in search of soap, towels or a hand dryer.  In addition to user convenience and functionality, this uniquely integrated design ensures that water goes down the drain – not on the floor or down the walls. 



To wash hands with the Advocate Lavatory System, users intuitively move their hands from left to right, beginning with a touchless soap dispenser, a touchless faucet, and finishing with a high-efficiency dual-sided hand dryer.  In effect, Bradley's exclusive "all-in-one" design simplifies hand washing, while minimizing washroom cleaning and maintenance, and maximizing a safer restroom environment.



Form follows function

Touchless hand washing components further promote efficiency and ease-of-use with this lavatory.  Equipped with a hygienic hands-free infrared 0.38 gpm faucet that reduces water usage by 24%, it also includes an infrared, high-speed dual-sided hand dryer, which dries hands in 15 seconds or less. The system also features a large capacity, top-fill infrared soap dispenser with intelligent electronics controlling a low-level indictor and unique over-fill protection.



Made with durable Terreon® solid surface material, the Advocate Lavatory System provides a sleek look complemented by water- and energy-saving benefits. Both Terreon and Terreon®RE recycled solid surface material create a rich look with the strength and durability of today's solid surface technology.  TerreonRE is comprised of 25% pre-consumer recycled content and a bio-based resin.  Both Terreon and TerreonRE are GREENGUARD certified as low-emitting materials. 



Available in single-, 2- or 3-user models, the lavatory is also ADA compliant.  The system makes an ideal choice for restrooms in a variety of applications:  retail, restaurants, airports, entertainment venues, colleges, convenience stores, travel plazas, convention centers, and more. 



Advocating safety and sustainability

"Bradley is extremely excited to lead the way in washroom technology innovation with the Advocate Lavatory System," says Jason Renner, Senior Product Manager, Bradley Corp.  "Not only does this system make washrooms cleaner, safer and more comfortable to use, it is an advocate for sustainable restroom design.  Its water-saving faucet, high-efficiency hand dryer, and recycled solid surface features make this product an ideal choice for modern restrooms. 



"Paper towel usage can also be reduced or eliminated saving the costs of ordering and storing paper towels, as well as the maintenance costs to replenish dispensers, and collect and dispose of paper waste," he says.  "That's not to mention the environmental benefits of conserving resources and eliminating excess paper waste." 



Renner also says that research underscores the public's desire for using an "all-in-one" hand washing concept.  According to a national study of American's hand washing behavior conducted by Bradley in 2011, when it comes to public restroom aggravations, 68% of Americans say that water collecting on the floor is extremely/very aggravating, and almost 50% are extremely/very uneasy about walking across a wet restroom floor.  Further, 83% of Americans surveyed found the new hand washing concept to be extremely or very appealing.



"In addition to the public, the architectural community has responded very positively to the sleek and high-tech integrated design, as well as the benefits of safety, convenience and function," Renner says.  "The concept of a personal handwashing space that discourages water dripping on the floor clearly resonates with owners, architects and our early adopters."



For over 90 years, Bradley Corporation has designed and manufactured commercial washfountains, and today is the industry's exclusive source for plumbing fixtures, washroom accessories, partitions, emergency fixtures and solid plastic lockers.  Serving commercial, industrial, health care, recreation, education, and corrections markets worldwide, Bradley is headquartered in Wisconsin.  For more information, contact Bradley, Telephone: (800) Bradley; Fax: (262) 251-5817; www.bradleycorp.com .

More from Machinery & Machining Tools