Latest WebRTC Conferencing Solutions Come with Improved Codecs and Protocols
Press Release Summary: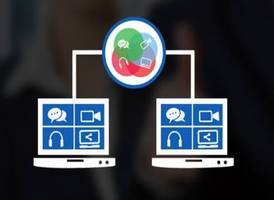 Ecosmob's WebRTC Conferencing Solutions enable group conferencing, peer to peer chat and private room chats between participants. WebRTC is enhanced with video calling option in HD quality. This option allows user to participants to make online presentations using PowerPoint and sharing of documents during live video chat. WebRTC provides options such as show video within video, screen sharing, graphics, images and charts. WebRTC allows interaction of remote workers, suppliers and buyers.
---
Original Press Release:
Ecosmob Announce New Feature of Video Calling in WebRTC Conferencing
Conferencing is the lifeline of business communication and the trend is increasingly towards the use of video. Ecosmob provides a seamless WebRTC conferencing experience by including video calling feature.
Ecosmob, a global leader in VoIP developments, announced inclusion of video calling feature in its WebRTC conferencing solution, thereby taking usability to greater heights.
The VP of Ecosmob said that its WebRTC client solution has already gained wide industry acceptance as one of the most affordable and feature-packed conferencing solutions for enterprises. Ecosmob further enhances this conferencing facility by including video calling into its WebRTC conferencing solutions.
He went on to elaborate that crystal clear audio is one of the prime requirements in audio conferencing, an aspect that has been taken care of by superior implementations of codecs and protocols in its WebRTC solutions. Incorporation of video does present different challenges not the least of which is bandwidth considerations. This has been admirably taken care of by scalable video technologies so that users are not plagued by jittery video, breaks and lags all of which can mar the conferencing experience. Video in HD is a seamless experience.
Video in conferencing based on WebRTC technologies opens up new possibilities of interaction and communication. Ecosmob integrated conferencing allows group conferencing, peer to peer chat, private room chats between participants and facility to invite someone to drop in. All that is needed is a mobile phone or a desktop with webcam and microphone. No special software or plugin is necessary. The facility to view participants is a great plus in interpreting body language and promoting better interaction. Besides this, video also now allows participants to make presentations online using PowerPoint. It is also possible to show video within video, screen sharing, graphics, images and charts. One can just as well share documents during a live video conference.
Business enterprises will, of course, find this WebRTC video conferencing a boon for interacting with remote workers, suppliers and buyers besides improving team collaboration. Ecosmob can further modify its solution by including multi-tenancy which feature can be leveraged by VoIP service providers to offer value added services. Enterprises too benefit from multi-tenancy.
Ecosmob video conferencing is absolutely safe and highly secured with user authentication a part of the security features for reliable communications. The solution includes monitoring, analytics and reporting features.
"We are fully committed to innovation and advancements based on open source technologies to make communications a breeze besides being highly affordable. As always, our offerings are backed by solid support," said the VP.
Ecosmob welcomes inquiries for its video enabled web conferencing solutions. Interested enterprises may contact them on 91 79 40054019, 1-303-997-3139 or via website www.asteriskservice.com for live interaction. 
More from Optics & Photonics