Latest VQuad Software Supports Tone Detect Bandwidth
Press Release Summary: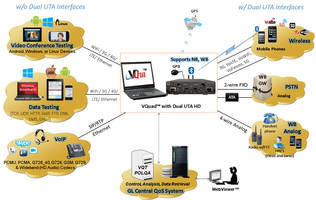 The VQuad™ Software is designed for automatically sending and recording voice, video and data traffic of different networks. The software can be used for testing Wireless (Bluetooth®, Wi-fi, 3G, 4G, LTE and PTT), VoIP, Analog, and TDM networks. It utilizes universal adapters like Dual UTA HD or Probe HD for providing multiple interfaces to connect any communication devices. The VQuad supports script and GUI user-specified shutter dialtone configurations.
---
Original Press Release:
VQuad™ Software v9.7 Now Available for Download !!!
VQuad™ : The VQuad™ software is used to automatically send and record voice, video, and data traffic over various types of network (Wireless, VoIP, TDM, & Analog). The VQuad™ uses a universal adapter such as Dual Universal Telephone Adapter High Density (Dual UTA HD), or VQuad™ Probe HD that provides multiple interfaces for connecting to any communication device on a network. The VQuad™ with any of the above hardware allows to test variety of networks, including Wireless (Bluetooth®, Wi-fi, 3G, 4G, LTE, PTT), VoIP, Analog, and TDM, practically allowing any end-point interfaces to be tested for voice, data, and video quality.
Latest Enhancements : In this new release, the VQuad™ software includes -
Supports script and GUI user-specified Stutter Dialtone configuration for FXO testing
Support Tone Detect bandwidth
 Support PTT Connect Time - includes tone configurations and event generation when tone is detected on-line after PTT is enabled
Many commands in script editor have been added - support 'IF' Stutter Dialtone, 'Wait' for VQT Measurement, and 'PlaceCall' (Secondary Call option) for dial number.
For more details on updates included in this release, please visit https://www.gl.com/vquad.html webpage.
More from Machinery & Machining Tools