Latest VPVision Software is Now Offered with Improved Customizable Report Functionality
Press Release Summary: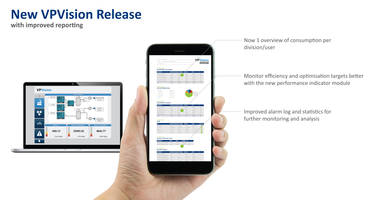 The VPVision Energy Management Software comes with consumption overview, key performance indicator module, compressor analysis module and alarm modules. The performance indicator module monitors the efficiency and allows user to track changes by comparing with previous period whereas the alarm report module defines thresholds alarm levels and emails for out of bounds alarms. It give the overview of total consumption per user/division.
---
Original Press Release:
VPVision Energy Management System: New Release!
Delft, 13 December 2018- VPInstruments announces new VPVision release, making energy management even easier and more complete. Besides minor improvements in the system itself, the customizable report functionality of VPVision has been greatly improved and expanded. A great new lay out is implemented and features have been added like specific power for overall system efficiency in kW/m3n/min or Wh/m3n. New features also include:
Consumption overview: Get overview of total consumption per user/division. Furthermore, you can also identify changes as total consumption values are also compared with values of the previous period.
 
Key Performance Indicator Module: Monitor efficiency and optimisation targets better with the new performance indicator module in VPVision's reports. You can select your own KPIs, track changes by comparing a KPI with the previous period and see performance in one glance by pre-defined colours for your KPI.
 
Compressor analysis module: Compressors can now be defined more accurately, including type of compressor, load/unload cycles and stages, resulting in improved analysis of compressor performance.
 
Alarm module: VPVision already featured an optional alarm functionality including definition of thresholds alarm levels and emails for out of bounds alarms. This new alarm report module features an alarm log and statistics.
We believe energy management should be easy and effortlessly. With the automated report function of VPVision, there is hardly any need to look at the system itself anymore. You now have all important information in your email on a regular base.
 
VPVision
VPVision is the next step in controlling factory efficiency and energy management, by overviewing all energy usage patterns flowing through any installation. VPVision provides advanced web-based energy monitoring and can be accessed from any PC, tablet or cell phone. It is the cornerstone of any energy management environment under ISO 50001 certification. For more information about this energy monitoring software, please see our website.
About VPInstruments
VPInstruments offers industrial customers easy insight into energy flows. We believe that industrial energy monitoring should be easy and effortless, to enable insight, savings and optimization. VPInstruments' flow meters are calibrated on state-of-the-art calibration facility. Our calibration equipment is maintained under our ISO 9001 Quality Management System and is traceable to National Standards.

VPInstruments products are recommended by leading energy professionals worldwide and offer the most complete measurement solution for compressed air flow, gas flow and electric energy consumption. Our monitoring software VPVision can be used for all utilities, and enables you to see where, when and how much you can save. Our products can be found all over the world. We serve all industrial markets, for example; automotive, glass manufacturing, metal processing, food and beverage and consumer goods. We can also help your industry. Let us open your eyes and start saving energy.

For more information, contact: 
VPInstruments
Joyce van Eijk - joyce.van.eijk@vpinstruments.com
Buitenwatersloot 335, 2614 GS Delft
Tel. +31 (0)15 213 1580
Internet: www.vpinstruments.com
More from Software