Latest Vacuum Pumps from Leybold Come with Noise Level of 52 dB(A)
Press Release Summary: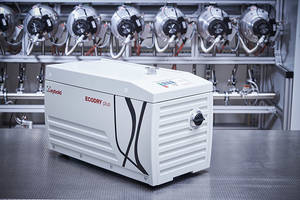 Equipped with integrated pump controller, that are suitable for all voltage ranges
Offered with intuitive LEYASSIST software and emits neither oil vapor, nor particles
Ideal for laboratory, research and development and analytical applications
---
Original Press Release:
New Vacuum Pump ECODRY 25 and 35 Plus – Compact, Ergonomic, Energy-Efficient
Leybold strengthens the trend towards smart solutions in research and laboratory applications
Leybold expands its ECODRY plus product family of dry multi-stage Roots vacuum pumps for laboratory, research and development and analytical applications. The current ECODRY 40 and 65 plus models are now joined by the new, smaller pump sizes ECODRY 25 and 35 plus. Leybold thus completes its range of quiet, low-maintenance and economical fore-vacuum pumps and fills the gap between SCROLLVAC 18 plus and ECODRY 40 plus.
Ergonomic advantages
A characteristic of ECODRY plus, which is particularly important in research facilities and in analytical laboratories, is its low noise level. "Customers have already appreciated the existing models for this ergonomic advantage. The new ECODRY 25 and 35 plus also have a particularly compact design," says product manager Alexander Kaiser, naming another important feature. Thanks to technical optimizations, the vacuum pumps are smaller and more energy-efficient than competitive products. "As a result, we achieve very high pumping speeds with relatively little footprint, which means that a chamber can be evacuated more quickly and a lower ultimate pressure is achieved," summarizes Kaiser.
Pleasant background noise
Above all, the new ECODRY 25 and 35 plus are particularly quiet, with a noise level of 52 dB(A). "A normal conversation is at a noise level of about 55 dB(A)," says Alexander Kaiser. So it's easy to stay close to the pump and have a normal conversation with the pump noise just fading into the background," Kaiser explains.
Clean operation
A further advantage of the new ECODRY 25 and 35 plus: it emits neither oil vapor, nor particles. This is particularly important in research institutes and laboratories where a clean working environment is essential. The oil-free multi-stage Roots pumps ECODRY 25 and 35 plus also have a maintenance interval of five years, during which time they run without any servicing. No oil to check and change so users can devote themselves fully to their research and laboratory work.
Pressure gauge optimizes energy consumption
While the ECODRY 40 and 65 plus are still available in the two voltage variants 200-240 Volt for Europe and Asia and 120 Volt for North America, there is only one variant required for each of the new ECODRY 25 and 35 plus worldwide. Equipped with an integrated pump controller, they are suitable for all voltage ranges. Customers also have the option of connecting a pressure gauge directly to the vacuum pump. "This integration is interesting because it allows the pump performance to be adapted again specifically to the respective requirement," explains Product Manager Kaiser. With the help of the gauge, the pump determines the pressure: If this is low enough, the pump can reduce its speed and becomes even quieter and more energy- efficient. What's more, the ECODRY plus is emitting less heat, which means the air conditioning system has less work to do.
Various interfaces for the smart laboratory
This means that ECODRY plus does not simply run through, but achieves exactly the required performance level. In addition, the ECODRY has connections for easy integration of the pump into external control systems and for reading all data from other systems. With its various interfaces such as USB and RS485 as well as the new intuitive LEYASSIST software, the new ECODRY 25 and 35 plus is thus ideally equipped for all sustainable, future-proof industrial 4.0 applications.
For further information, please contact:
Dr. Alexander Kaiser
Global Product Manager – Primary Pumps
Scientific Vacuum Division
Atlas Copco Vacuum Technique
Bonner Strasse 498
50968 Cologne
Phone: +49 221 347 1052 – Mobile: +49 151 4186 6049
E-mail: Alexander.kaiser@vt.atlascopco.com
About Leybold
Leybold is a part of the Atlas Copco's Vacuum Technique business area and offers a broad range of advanced vacuum solutions for use in manufacturing and analytical processes, as well as for research purposes. The core capabilities centre on the development of application- and customer-specific systems for the creation of vacuums and extraction of processing gases. Fields of application are secondary metallurgy, heat treatment, automotive industry, coating technologies, solar and thin films such as displays, research & development, analytical instruments, food & packaging, as well as a multitude of other classic industrial processes.
About Atlas Copco
Great ideas accelerate innovation. At Atlas Copco, we have been turning industrial ideas into businesscritical benefits since 1873. By listening to our customers and knowing their needs, we deliver value and innovate with the future in mind. Atlas Copco is based in Stockholm, Sweden with customers in more than 180 countries and about 37 000 employees. Revenues of BSEK 95/ 9 BEUR in 2018. 
For more information: www.atlascopcogroup.com
More from Electronic Components & Devices