Latest V100 Series Vacuum Sealer Machine from CTI is Designed for Preserving Food
Press Release Summary: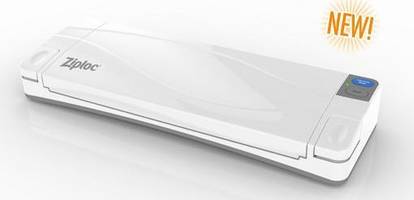 The V100 Series Ziploc® Brand Vacuum Sealer Machine comes in 12 x 2 x 4 in. (W x H x D) dimensions. The unit is offered in white, red or black color options. It is designed to keep out air and moisture to preserve food and valuable items.
---
Original Press Release:
CTI Industries Introduces New Small Format Home Vacuum Sealing Appliance
LAKE BARRINGTON, Ill., Sept. 26, 2018 /PRNewswire/ -- CTI Industries Corporation (NASDAQ: CTIB) ("CTI"), a manufacturer and global marketer of novelty balloons, vacuum and flexible packaging and storage products, printed and laminated films, party goods, Candy Blossoms and home container products, today announced the introduction of its new smaller footprint vacuum sealing appliance – the V100 Series Ziploc® Brand Vacuum Sealer machine.
The new V100 Series complements CTI's existing and successful V200 Series Ziploc Brand Vacuum Sealer System appliances, which are currently widely available. The V100 Series provides a lower-cost, smaller footprint option for consumers to help keep foods fresh longer than conventional grocery storage methods. It is specially designed to keep out air and moisture, preserving food and other valuable items. It performs quickly, simply and effectively. With dimensions of approximately 12" width, 2" height and 4" depth, the V100 Series takes very little space on the countertop and can be easily stored in a drawer or carried in a tote or handbag, making it a convenient portable solution for today's consumer.
The V100 Series is available in White, Red or Black color options and is on sale now at retailers across the United States, as well as online.
"The V100 Series reflects CTI's commitment to expanding our product line and retail presence, while delivering evolutionary home solutions to our customers," said Jeffrey Hyland, President of CTI. "The Ziploc Brand Vacuum Sealing System can help save time and money and reduce waste." 
About CTI
CTI Industries Corporation is one of the leading manufacturers and marketers of foil and latex balloons, develops, produces and markets vacuum sealing systems for household use and produces laminated and printed films for commercial uses. CTI also distributes products for home organization and storage, Candy Blossoms and other gift items and, in Mexico, party goods. CTI markets its products throughout the United States and in a number of other countries.
CONTACT: CTI Industries, Frank Cesario, CFO, (847) 620-1439, fcesario@ctiindustries.com OR The Equity Group, Devin Sullivan, The Equity Group, (212) 836-9608, dsullivan@equityny.com
More from Fluid & Gas Flow Equipment