Latest Unified Communications Solutions are Designed for Telecommunication Businesses and VoIP Carriers
Press Release Summary: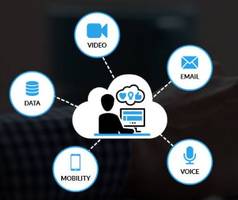 Ecosmob's Unified Communications Offerings consist of IP communications and services such as promotions, contact centers and multimedia integration. The solutions use a mix of real-time communication tools for decision making and allow collaboration with swift exchange of audio-visual, written or voice data across platforms. The new offerings assist user to interact with teams and departments on the go and provide uninterrupted access to data on the cloud.
---
Original Press Release:
Ecosmob Technologies' Launches Unified Communications Solutions to Power Businesses with Collaboration and Productivity
Ecosmob Technologies, one of the leading providers of customized VoIP solutions with a client-centric approach announces its new Unified Communication offerings. Ecosmob's Unified Communication solutions are built with the mission to help telecommunication businesses and VoIP carriers to use collaboration and a mix of real-time communication tools to expedite decision making and impact their bottom line.
AHMEDABAD, INDIA (PRWEB) JULY 30, 2018
Ecosmob Technologies is one of the leading names in the VoIP development arena. Given today's enterprises and businesses' need for speed to make decisions on the go and communicate with their offshore teams in real-time, Ecosmob organically branched out with Unified Communication solutions for customers in the telecommunication arena.
Maulik Shah, the Founder and CEO of Ecosmob Technologies said, "Our unified communication solution builds on the VoIP solution that we offer to telecom carriers and VoIP service providers. Ever thoughtful of our clients and the need to show them ways to increase revenue streams, we have worked on and have come up with unified communication that is so indispensable for businesses to deliver customer satisfaction in today's environments."
"VoIP mainly offers internet voice communications but unified communication or UC goes a step further in empowering communication over various channels through a single dashboard," he elaborated.
The newly launched Unified Communication solutions help customers leverage the power of rich, user-friendly and reliable communication platforms and allow collaboration with the swift exchange of audio-visual, written or voice data across platforms. Unified Communications will be provided to customers as a full solution offering or as add-ons or upgrades.
The solutions stack also involves a combination of internet Protocol or IP, telephone, email and video conferencing tools over VoIP to provide a single, user-friendly platform to foster quick and easy connection with customers. Customers like telecom companies, carriers and VoIP services providers can leverage Ecosmob's Unified Communications solutions to increase productivity and performance.
Ecosmob 's Unified Communication solutions offerings include IP communications and services like promotions, contact centers, multimedia integration and hosted collaboration. These solutions are based on industry best-practices and even offered via cloud-enabled platforms.
The omni-channel communication feature of the solution helps users to interact with teams and departments on the go without having to face any communication or collaboration challenges. The uninterrupted access to data on the cloud further makes it easy for customers to share, store and exchange data across teams anytime, anywhere on any device without the worry of security attacks. This not only lowers the expenses that are involved in conventional, time-consuming and repetitive methods for communication and collaboration.
Ecomsob's UC experts engage to help businesses and enterprises easily adopt the UC solutions that can be run on the hardware or on the servers. The currently launched, Unified Communication solution is affordable for small and emerging businesses.
For more information and enquiries on Ecosmob's Unified Communication Solutions from global VoIP service providers, reach our experts at +1 303 997 3139 or email: sales(at)ecosmob.com, or visit our website https://www.ecosmob.com/unified-communication-solution/
About Ecosmob Technologies: 
Ecosmob Technologies was founded in 2007 to provide its enterprise customers high-quality, enterprise-grade IT solutions and services. The company uses cutting-edge technology to deliver a range of services including VoIP Development, Mobile Application Development, Digital Marketing and more.
Since inception, Ecosmob has adopted a customer-centric approach to serve its global clientele and has successfully addressed various business requirements with premium quality VoIP, Mobile and Web solutions. 
For more information on Ecosmob, visit https://www.ecosmob.com/
Contact Information
Maulik Shah
sales@ecosmob.com
http://https://www.ecosmob.com
+91 9979873290
More from Sensors, Monitors & Transducers