Latest TopWorx D-Series Switchbox Can be Paired to GO Switch Proximity Sensor
Press Release Summary: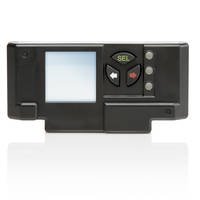 The TopWorx™ D-Series Switchbox now comes with HART 7 position transmitter option that allows user for process valve position monitoring and alarm setting. The HART 7 transmitter comes with a LCD display and navigation buttons that allows local 5-point calibration. The unit is offered with vibration-resistant terminal strip and spare auxiliary input. The TopWorx™ switchbox provides measurements of open and close dwell time, valve transition time – from open to close, last open/close stroke time and percent of valve is open/closed.
---
Original Press Release:
Emerson Adds Communications Protocol for Switchbox Users to Improve Operational Efficiency and Asset Management
TopWorx™ D-Series switchbox maximizes HART 7's capabilities for preventative maintenance and position monitoring
LOUISVILLE, KENTUCKY – Emerson has introduced a HART 7 position transmitter option for its TopWorx D-Seriesswitchbox. The addition of the HART 7 communications protocol enables advanced diagnostic and monitoring capabilities for valve integrators and automators. It helps improve operational efficiency and maintenance planning for plants in process industries such as oil and gas, chemical, power, and refining.
"The TopWorx D-Series switchbox offers customers all the benefits of the HART 7 protocol, such as complete process valve position monitoring and alarm setting," said Leandru Schiau, senior product manager at Emerson Automation Solutions for TopWorx switchbox.
The HART 7 position transmitter's easy-to-use LCD display and navigation buttons permit local 5-point calibration for more accurate setup on linear applications. Advanced diagnostic capabilities include measurements such as percent valve is open/closed, open and close dwell time, valve transition time – from open to close, and last open/close stroke time. 
Other device features include:
LCD display indicates error codes, valve position, device temperature, and calibration modes for easier setup, commissioning, and fault finding
Limit switch position monitoring
Integrated vibration-resistant terminal strip for easier setup and greater connective reliability
Compact design for installation in small spaces
Spare auxiliary input that can be used to monitor any dry contact switch over the HART 7 network
Global certifications for application flexibility
The D-Series is the only switchbox where HART 7 can be paired with a GOTM Switch proximity sensor for greater reliability in extreme valve monitoring applications where accuracy and dependability are paramount.
More information on the HART 7 option can be requested by visiting http://www.emerson.com/en-us/catalog/topworx-hart-7.
About Emerson
Emerson (NYSE: EMR), headquartered in St. Louis, Missouri (USA), is a global technology and engineering company providing innovative solutions for customers in industrial, commercial, and residential markets. Our Emerson Automation Solutions business helps process, hybrid, and discrete manufacturers maximize production, protect personnel and the environment while optimizing their energy and operating costs. Our Emerson Commercial and Residential Solutions business helps ensure human comfort and health, protect food quality and safety, advance energy efficiency, and create sustainable infrastructure. For more information visit Emerson.com.
Media contact: Don Goncalves
781-793-9380
More from Services