Latest Surface Mount Fuse is UL 248-14 Listed and cURus Approved
Press Release Summary: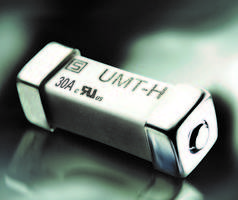 Comes in 5.3 x 16 mm.package and provides unprecedented overcurrent and short circuit protection
Offers up to 50 A current ratings with a breaking capacity rating of 500 A at 125 VAC / 72 VDC
Intended for use in circuits using one of 3- phase wiring schemes and has temperature range is -55°C to 125°C
---
Original Press Release:
UMT-H Surface Mount Fuse is Petite and Powerful up to 50 A
Santa Rosa, California, March 11, 2021 – SCHURTER's prominent UMT-H surface mount ceramic fuse family now includes 40 A and 50 A current ratings with an impressive breaking capacity rating of 500 A at 125 VAC / 72 VDC. The series provides unprecedented overcurrent and short circuit protection performance in a package size of 5.3 x 16 mm.
The UMT-H was originally developed to provide a smaller alternative to through-hole mounted 5 x 20 mm cartridge fuses, commonly used for primary circuit protection. The range has since grown to include 26 rated currents from 160 mA to 50 A. Rated voltage is maximum 277 VAC / 250 VDC, with a remarkable interrupt capacity rating of 1500 A for current ratings up to 6.3 A. The Time-Lag T characteristic of the UMT-H withstands high inrush and pulse currents. Its 277 VAC rating is intended for use in circuits using one of 3-phase wiring schemes (480Vac ÷√3=277Vac), common to commercial and industrial lighting in the U.S.
The UMT-H series has evolved to include higher current ratings to meet new markets for secondary protection in battery-powered applications. Areas of application are widespread, from motors to newer emerging applications such as those reliant on energy accumulators and everything in between. The UMT-H is an all-around ideal solution for many applications in energy, data, medical, industrial control and automotive to name a few. It is also impermeable to conformal coatings, and thus a good candidate for use in ATEx and IECEx rated devices for hazardous environments.
A variety of breaking capacity measurements are performed on the UMT-H at specific solder trace widths. The information is provided on the datasheet to help guide in accurate selection and circuit installation. The admissible ambient temperature range is -55°C to 125°C. Large solder pads ensure optimal heat dissipation. The fuse is available in 100-piece quantities loose, or 1500-piece reels for automated pick and place.
The UMT-H is designed according to IEC 60127-7 and UL 248-14 and carries VDE and cURus approvals. IEC and MIL-STD 202 tests apply. Pricing starts at about $1.30 each per reel of 1500 pieces. Datasheet link UMT-H. For sales and product information, contact Cora Umlauf at (800) 848-2600 or by email at info@schurterinc.com.
About SCHURTER Inc.
The SCHURTER Group is the world's leading Swiss technology company providing components and complex solutions that ensure safe power supply and simplified equipment operation. The company's professional competence, financial independence, innovative strength and distinctive corporate culture, propel the SCHURTER Group, together with its customers and partners, into the digital future. The safe&easy brand claim not only refers to the products, but also the company's business philosophy, which strives for sustainable success through innovation, high-quality products and service, flexibility and proximity to customers.
SCHURTER is known globally as an innovator, manufacturer and distributor of fuses, connectors, circuit breakers, switches, EMC products, and input systems. Touch screens and touch panels, capacitive sensor keypads, membrane keypads and housing systems are developed in close cooperation with its customers. Within its business unit Solutions, SCHURTER combines all competencies and puts them at the customer's disposal. SCHURTER products and solutions are developed especially for specific industry segments – medical, data and communication, automotive, avionics & space, energy and the broader industrial market. SCHURTER considers the quality of its products and services as the key factor to the company's lasting success. Its management and improvement processes are designed and certified according to ISO 9001, ISO 13485, ISO 14001, ISO 45001 and IATF 16949, using the EFQM and Baldrige Excellence Models, as well as the application of Lean Management principles such as Value Stream Planning, Power Innovation, SSO, and Six Sigma.
Editorial Contact: Suzanne Bowser
suzanne.bowser@schurter.com
Contact This Company Download Spec Sheet
More from Construction Equipment and Supplies