Latest Slurry Wet Blast Cabinets from Raptor are Built from 12-Gauge Steel
Press Release Summary: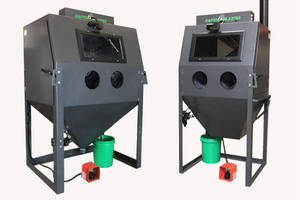 The Slurry Wet Blast Cabinets consist of RB4836S and RB3630S models. The units come with interior lined with tough Polyurea coating. They use both slurry pump system in which the mix of media and water are delivered to the blast gun. The blast cabinets are suitable for shops that require a quick way to strip or clean parts or wheels.
---
Original Press Release:
Raptor Blasting Systems Announces New Line of Slurry Wet Blast Cabinets
ROCKLIN, Calif., Aug. 28, 2018 /PRNewswire/ -- Raptor Blasting Systems (https://www.raptorblaster.com), the leader in industrial grade blast cabinets, has introduced two new slurry wet blast cabinets to their product line.
The RB4836S Slurry Wet Blast Cabinet and RB3630S Slurry Wet Blast Cabinet were designed to be durable wet blast cabinets for a wide variety of production shops. These new slurry blast cabinets are built to be a reasonably priced, and more durable alternative to other wet blast cabinets at a similar price point. The release of the RB4836S and RB3630S Slurry Blast Cabinets follow the success of the innovative RB4836 Vapor King direct pressure wet blast cabinet.
In 2015, after several years of hearing what blast equipment customers felt was lacking in the market, Rick Hayes launched Raptor Blasting Systems in Rocklin, California. His goal today is the same as it was then, to design and manufacture high-performance blast cabinets and sandblasting equipment for the industrial market at a fair and reasonable price.
"The new slurry blast cabinets that we are offering will last much longer than some of the slurry cabinets that are on the market now, that are made with plastic instead of steel. By producing slurry blast cabinets that are a few hundred more than some of our competitors, but will last years longer, we believe we have introduced a product that is a great value for garages and production shops everywhere," says Rick.
"The RB3630S and RB4836S are both 100% laser cut and hand welded, built from 12-gauge steel, and their interior is completely lined with a tough Polyurea coating. For the wet blast system, they both utilize a slurry pump system, where a mix of media and water are delivered to the blast gun," states Hayes. "Shops that need a quick way to strip or clean parts, wheels, or other objects, will want to take a look at these blast cabinets."
About Raptor Blasting Systems
Founded in 2015, Raptor Blasting Systems manufactures high-quality blast equipment for the industrial market. Leveraging their vast blasting industry experience, they continue to develop innovative blast equipment. They have a full product line of wet blast and dry blast cabinets.
Media contact:
Rick Hayes
200697@email4pr.com 
(916) 409-2458
Web Site: http://www.raptorblaster.com
More from HVAC