Latest Sky Z7 Mobile Supercomputer Comes with 4 SODIMM Sockets that Supports up to 3200 Mhz DDR4 Memory
Press Release Summary: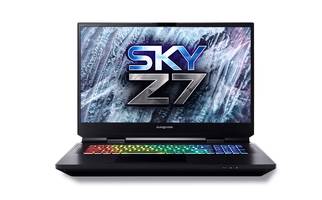 Utilizes Z490 Chipset and LGA 1200 socket technology configurable that boasts 3072 CUDA cores with 8 GB GDDR6 video memory and up to 1,815MHz boost clock
Offers 17.3 in. full HD and 4K displays ranging from 144Hz Full HD (1920x1080), 240Hz FHD and up to 144Hz 4K (3840x2160)
Provides four M.2 storage slots that offers up to 13 TB of SSD (12 TB of NVMe + 1 TB of M.2 SATA) storage
---
Original Press Release:
The Incredible EUROCOM Sky Z7 Mobile Supercomputer Pushes the Performance Limits of a Laptop Supercharged with Upgradeable, Non-Max Q Graphics- up to NVIDIA RTX 2080 Super and User-Upgradable Desktop CPUs- up to Intel i9-10900K!
Intro/Overview
In September 2020, Eurocom will launch its newest Mobile Supercomputer, the Sky Z7 Laptop. Users are able to configure up to the highly-anticipated and incredibly powerful, user-upgradeable, NVIDIA RTX 2080 Super (Non-Max Q) desktop graphics card. The laptop will be available with a choice of 10th Generation Intel CPUs up to the i9-10900K on-board CPU. Users are able to configure and re-configure the Sky Z7 with up to 128 GB of high-speed DDR4 memory and up to a whopping 13TB of SSD storage via user-upgradeable, easy-to-access internal components. The Eurocom Sky Z7 is a Mobile Supercomputer with easy-to-access internal hardware and battery, showcasing Eurocom's commitment to provide power users on-the-go, heavy-duty laptops that are upgradeable, and reconfigurable with the most impressive hardware today and beyond.
 
Upgradeable GPU & CPU Technology featuring 10th Generation Intel CPUs & NVIDIA RTX graphics
The Eurocom Sky Z7 Mobile Supercomputer utilizes the Z490 Chipset and LGA 1200 socket technology configurable with the most powerful desktop GPUs available today, up to the supercharged NVIDIA RTX 2080 Super (Non-Max Q) desktop GPU, which boasts a whopping 3072 CUDA cores with 8 GB GDDR6 video memory and up to 1,815MHz boost clock. The RTX 2080 Super is among the most advanced and sought after desktop GPUs available today due to its unmatched performance when running AAA games and other GPU-intensive applications.
Via the LGA1200 CPU socket, the Z7 utilizes desktop processors that can be replaced or upgraded as needed. This can be done by users themselves because Eurocom provides easy access to internal components of the Sky Z7. The laptop features 10th generation, 14 nm-based, Intel Comet Lake processors up to the Intel i9-10900K CPU (10 cores/20 threads), highlighting the sheer power this Mobile Supercomputer holds.
Combining Intel's latest generation CPUs and NVIDIA's most powerful GPUs, the Eurocom Sky Z7 flaunts immense power and exceptional connectivity to support 4K content creation, 4k gaming and streaming, advanced 3D post-processing and CAD rendering with ease.
Eurocom's user-upgradeable, socket technology gives various options for users replace, upgrade or reconfigure their laptops as they see fit, making this Eurocom Mobile Supercomputer a wise investment as it assures longevity and exceptional performance well into the future.
Choice of High Speed Displays
Eurocom offers a variety of immersive 17.3" displays for the Sky Z7 (IPS and eDP). Users are able to choose across Full HD and 4K displays ranging from 144Hz Full HD (1920x1080), 240Hz FHD and up to 144Hz 4K (3840x2160). Eurocom Sky Z7 users will be able to enjoy stunning displays depending on the response rate and resolution that they require. NVIDIA G-sync is supported in some displays.
128 GB Memory and 13TB SSD Storage
The Sky Z7 has 4 SODIMM sockets that supports up to 3200 Mhz DDR4 memory, resulting in up to 128 GB high-speed RAM.
The SODIMM sockets are accessible to users and offers upgrades well into the future. Eurocom provides easy-to-access components to encourage users to customize their laptops and promotes longevity as users are able to replace and/or upgrade the Memory and Storage in the event of failure or as needed.
Eurocom provides four M.2 storage slots in the Sky Z7 (3 x M.2 NVMe + 1 M.2 SATA) that offers up to a massive 13 TB of SSD (12 TB of NVMe + 1 TB of M.2 SATA) storage. NVMe SSD's are very efficient and reliable for storing important data/files due to their extremely fast read and write speeds. These M.2 Slots are easily accessible to users and are perfect for working with large amounts of data stacks as it can read, write and render massive files rapidly and with ease. RAID configurations are also available via NVMe drives (RAID 0,1,5).
I/0 PORTS and exceptional connectivity via KILLER LAN/WiFi
The Sky Z7 has multiple ports offered such as Thunderbolt 3/ USB-C 3.2 Gen2, two mini Displayport 1.4, HDMI 2.0 w/ HDCP and three USB 3.2 Gen2. The various number of display ports/connectors combined with a powerful GPU results in the Sky Z7 being able to generate a total of four 4K displays in real time and can seamlessly fit into any multi-monitor work environment or gaming /streaming setups.
To provide excellent network connectivity, the Sky Z7 is equipped with the Killer E3000 Ethernet RJ-45 LAN port capable of blazing fast speeds up to 2.5 Gbps. The Sky Z7 comes standard with Intel Wireless AC via M.2 slot capable of up to 1.73 Gbps. However, users have the option to upgrade to the Killer Wi-Fi 6 AX 1650x module that is specifically designed to deliver the fastest gameplay, best streaming and most immersive communication experiences. Killer Wi-Fi delivers up to 2.4 Gbps of throughput, low latencies and the most reliable connections.
Killer DoubleShot Pro software is also available when using Killer LAN and Killer WiFi hardware to further manage and fully-optimize network activity in order to produce the best throughput possible. When multiple apps are connected to the internet at the same time, Killer DoubleShot Pro software prioritizes the most important tasks first and carefully distributes network activity and is perfect for users looking to do 4k gaming and 4k streaming, simultaneously.
RGB Keyboard, Languages & Sound
Users can show off their unique personalities via customizable backlit RGB per key lighting, adding more vibrancy to the laptop's aesthetics. The keyboard includes N-key rollover, registering every key stroke when multiple keys are pressed simultaneously and also prevents ghosting/jamming. Multiple keyboard languages are offered in the Sky Z7 varying across 12 different languages from US English, UK English, Japanese and various European languages
In terms of sound, the laptop has S/PDIF Optical output allowing users to connect their home-theater systems and delivers outstanding fidelity. More sound features include built-in noise cancelling microphone, 2.1 Stereo speakers and high definition audio via ESS SABRE HiFi DAC for high resolution headphone output.
Users can enjoy a potent mix of excellent sound quality, beautiful colour combinations and stunning visuals to create a fully-immersive experience as they play and stream the latest games, create/edit 4k content and perform work-related activities with the Sky Z7 Mobile Supercomputer.
TPM 2.0 Security and Permanent Offline Disconnect Option
To keep the Sky Z7 secure, Eurocom has equipped the laptop with tamper-resistant, hard-disk encryption via the TPM 2.0 chip on the motherboard. There is also a fingerprint scanner and Kensington lock for added physical security. Eurocom offers an added service called the Anti-Spying Offline Permanent Disconnect Option, which is an optional service to physically remove connectivity and other communication components (such as the Webcam, WiFi & Bluetooth) to ensure a 100% offline system for maximum security of sensitive data and protection of intellectual property.
Removable Battery, Cooling and other Features
Unlike many modern laptops with glued-on components from the GPU, CPU, RAM, Memory and batteries, the Sky Z7 offers easy-to-access internal components and all parts are upgradeable. This includes the battery, capable up to 97Wh, which is easily removable and replaceable. Having a removable battery has many advantages, including giving the laptop a much longer lifespan compared to laptop with glued-on, non-replaceable and non-upgradeable parts. Users can simply replace obsolete or failing parts as needed to maintain the laptop's performance at a high level for a long time, making the Sky Z7 a great investment that has great longevity well into the future.
The Sky Z7 is comes standard with dual- 280W AC adapters producing a total of 560W of power. Eurocom offers 780W AC adapters for Extreme Performance users who will push the Sky Z7 to its maximum performance capabilities. The Sky Z7 has customized copper heatsinks and utilize industrial-grade thermal paste along with a unique chassis design to keep the laptop running cool even under the heaviest of workloads.
Eurocom Sky Z7 Resources
PreOrder Page: https://eurocom.com/ec/configure(2,468,0)SkyZ7
Images: https://eurocom.com/ec/images(468)SkyZ7
Specifications: https://eurocom.com/ec/specs(468)SkyZ7
About Eurocom:
Eurocom is the leading developer of long-lifespan, fully upgradable notebooks, as well as, high-performance mobile workstations and servers since 1989. Eurocom prides itself as an Industry leader in providing ground-breaking technology and continues to engineer innovative solutions that inspire individuals and companies to new growth and development. For more information on Eurocom please visit us at www.eurocom.com
Contact:
Dayne Apilado | Sales and Marketing Team | Love your Laptop | https://twitter.com/EurocomTech | 613-224-6122 | [email protected]