Temperature Sensors / Detectors / Transducers
Latest SHTC3 Humidity Sensors are Suitable for Battery Powered Mobile or Wireless Applications
Press Release Summary: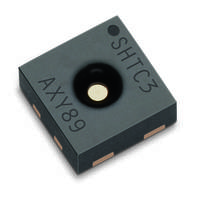 Sensiron's SHTC3 Humidity and temperature Sensors are available in 2 x 2 x 0.75 mm³ DFN package that consists of capacitive humidity sensor, a temperature sensor, analog and digital signal processing, A/D converter, calibration data memory, and a communication interface. Unit offers a measurement range of 0 to 100% RH (Humidity) and -40°C to 125°C (temperature) with accuracy of ±2% RH and ±0.2°C. Sensor is operated on1.62 V to 3.6 V supply voltage.
---
Original Press Release:
Humidity Sensor for Battery-Driven Applications
Sensirion, the expert in environmental sensing, presents the new ultra-low power humidity sensor SHTC3 for mobile and battery-driven applications. The SHTC3 is a digital humidity and temperature sensor optimized for battery-driven applications and high-volume consumer electronics. The sensor has been designed to overcome conventional limits in size and power consumption in order to fulfill current and future requirements, and offers an unmatched performance-price ratio. The SHTC3 improves the performance and flexibility of the SHTC1, while maintaining its proven reliability.
Sensirion's CMOSens® Technology offers a complete sensor system on a single chip, consisting of a capacitive humidity sensor, a bandgap temperature sensor, analog and digital signal processing, A/D converter, calibration data memory, and a digital communication interface supporting I2C fast mode. The small 2 x 2 x 0.75 mm³ DFN package enables applications in even the most limited space. The sensor covers a humidity measurement range of 0 to 100% RH and a temperature measurement range of -40°C to 125°C with a typical accuracy of ±2% RH and ±0.2°C. The broad supply voltage of 1.62 V to 3.6 V and an energy budget below 1 μJ per measurement make the SHTC3 perfectly suited to mobile or wireless applications powered by battery.
With the industry-proven quality and reliability of Sensirion's humidity and temperature sensors providing constant accuracy over a large measurement range, the SHTC3 offers the best performance-price ratio. Tape and reel packaging combined with suitability for standard SMD assembly processes make the SHTC3 ideal for high-volume applications.
For more information, please visit http://www.sensirion.com/shtc3.
About Sensirion – Experts for Environmental and Flow Sensor Solutions
Sensirion AG, headquartered in Staefa, Switzerland, is a leading manufacturer of digital microsensors and systems. The product range includes gas and liquid flow sensors, differential pressure sensors and environmental sensors for the measurement of humidity and temperature, volatile organic compounds (VOC), carbon dioxide (CO2) and particulate matter (PM2.5). An international network with sales offices in the US, Europe, China, Taiwan, Japan and Korea supplies international customers with standard and custom sensor system solutions for a vast range of applications. Sensirion sensors can commonly be found in the medical, industrial and automotive sectors, analytical instruments, consumer goods and HVAC products.
One of the hallmark features of Sensirion products is the use of its patented CMOSens® Technology, which permits intelligent system integration of the sensor element, logic, calibration data and a digital interface on a single chip. Sensirion's credentials as a reliable supplier are underscored by its loyal customers, quality reputation (ISO/TS 16949) and top customer pedigree.
Contact: www.sensirion.com, info@sensirion.com, Tel. +41 44 306 40 00, Fax +41 44 306 40 30
More from Fluid & Gas Flow Equipment