Latest Press Automation Controller Comes with Auto Reset Function
Press Release Summary: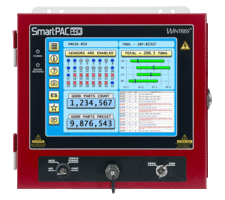 Offers Green Flex customizable green sensor
Masking feature that is used to monitor events that occur regularly but not on every stroke
Users can use Bypass Window option to ignore the sensor when caused by the material jumping
---
Original Press Release:
Wintriss Introduces Advanced Die Protection Features for SmartPAC PRO Press Automation Controller
ACTON, MA U.S.A. (February 17, 2021) – Wintriss Controls Group has announced new and enhanced Die Protection Features on the latest versions of its SmartPAC PRO Press Automation Controller. New Advanced DiProPAC boasts over ten new capabilities.
"We are very pleased to provide SmartPAC PRO users with even greater Die Protection functionality," said Jim Finnerty, Product Manager, Wintriss Controls Group. "Users will see a familiar programming interface, allowing them to quickly get up to speed on new Advanced DiProPAC."
Highlights include a new customizable green sensor type called Green Flex. This versatile cyclic sensor monitoring type now allows for specification of the required state of the sensor at the start and end of the ready window. The sensor can be set to require a specific number of actuations inside the ready window.
A new Masking feature is available on most Green Sensor types, including Green Flex, and is used to monitor events that occur regularly but not on every stroke. For example, applications might include gagging, zig-zag feeds or where multiple cycles are needed to produce part feature events that need monitoring on only some cycles.
To eliminate nuisance stops caused by the material "jumping" when the die opens, a Bypass Window can be programmed for static sensors. During the bypass, the sensor will be ignored, so any nuisance fault during that window will not stop the press. Outside of the bypass window, the sensor is monitored normally.
To save time and increase efficiency, an Auto Reset function has been added to the static sensors so that displayed errors, when removing a finished part, are automatically cleared when the sensor input is appropriately satisfied.
Advanced DiProPAC features also include improved handling of sensor names, sensor enable mode is now selectable by tool, minimum actuation time setting is added to Red and Yellow sensors, and more. To learn more about Advanced DiProPAC, please click here.
About SmartPAC PRO
The Wintriss SmartPAC PRO press automation control integrates programmable limit switch, die protection, clutch/brake control, tonnage signature analysis, and automated setup of counterbalance and shutheight into one control. SmartPAC PRO features superior graphics, advanced communications, and the most user-friendly operator interface in the industry.
Its built-in Ethernet capability allows for viewing the press status and other information from networked controls located anywhere. Requirements include a remote network connection and a web browser. The SmartPAC PRO Info Center feature allows users to display setup sheets, part drawings, and other information right at the press.
SmartPAC PRO architecture supports advanced connectivity features such as remote access from PCs and mobile devices, email messaging, and compatibility with the Wintriss IIoT production tracking OEE ShopFloorConnectTM software solution.
The SmartPAC PRO enclosure is also available with an optional Industrial Pendant Arm for mounting on presses. Wintriss offers stand-alone die protection, sensors, connection hardware and tonnage monitoring systems.
About Wintriss Controls Group
Wintriss Controls Group, of Acton, Mass., is a leading manufacturer of automation and safety products for the metal stamping and forming industry including its SmartPAC PRO press automation controller. The company's product range includes automation and clutch/ brake controllers, custom consoles, safety light curtains, die protection systems, load analyzers, in-die quality control systems, and ShopFloorConnect® production reporting and OEE tracking software.
Wintriss Controls Group is located at 100 Discovery Way, Unit 110, Acton MA 01720, phone (800) 586-8324, Fax: (978) 263-2048. For more information, visit Wintriss at www.wintriss.com.
Editorial Contact:
Michael McCue
McCue & Associates LLC
978-733-1353
mmccue@mccueassociates.com
Company Contact:
Jim Finnerty
Wintriss Controls Group
978-268-2721
jim.finnerty@wintriss.com
More from Material Handling & Storage