Latest PowerLok Rack PDU is Incorporated with CordLok Technology
Press Release Summary: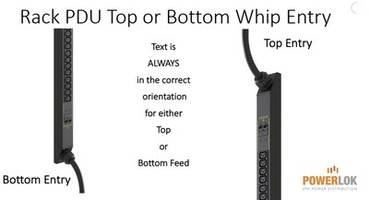 Features fully soldered connections that provide stable and reliable performance
Offered with standard angled whip input in which the cord comes into the power strip and busway at 45 degrees
Provides cord locking mechanism at level of individual receptacle and keeps server cords maximally organized
---
Original Press Release:
New PowerLok® Rack PDU Receives Enthusiastic Response at DCD Event, Where Data Center Experts Advance the Industry
Gateview Technologies brings innovation to long-standing product landscape with new state-of-the-art rack PDUs
WAKE FOREST, N.C., May 7, 2019 /PRNewswire/ -- Gateview Technologies launched its new PowerLok® rack PDU at DCD (Data Center Dynamics) 2019 in New York, NY, the world's largest data center market – and received enthusiastic affirmation of their innovation and commitment to bringing a fresh design sense and ease-of-use to the market.
Speaking to Gateview's entry into the market, Peter Gross of Bloom Energy Group said, "I was very impressed with PowerLok by Gateview, which just launched at DCD NYC. This product represents great strides forward for data center facilities and it will certainly have a positive impact on the market."
A sleek design and slim profile is enabled by PowerLok's internal connections, which are fully soldered. Most others use "fast-ons" or insulation displacement connectors as opposed to fully soldered connections. PowerLok's architecture ensures safer, more stable and reliable performance.
PowerLok also incorporates a standard angled whip input – where the cord comes into the power strip and the busway at a standard 45 degrees. No other rack PDUs offer this option as standard, without an additional associated cost. The angled entry whip allows for cords to take up much less space, and makes for easy installation in the server rack. 
If the customer orders as a bottom-feed the text and display are in the correct locations. The touch-screen monitor is programmable to allow rotation for ease of reading the output by facility personnel. Legacy suppliers often offer only one text or monitor orientation depending on the whip-entry location. The touch-screen display options communicate all power information related to the strips via SNMP.
PowerLok incorporates a patent-pending CordLok technology - which is an option offering a cord locking mechanism at the level of the individual receptacle. This increases reliability and helps to keep server cords maximally organized and neat. 
When PowerLok formally hits the market in Q4 of 2019, offered with over 17,000 different combinations of receptacles and features shipped in 4 days from order date. These offerings will be expanded in 2020 to include higher amperages.
Gateview CEO John Day says, "Our team is pleased with market feedback received at DCD. Many industry leaders told us, they are excited about the industry-changing design innovations that we've created within the rack PDU, and are enthusiastic about how PowerLok will make facility users more streamlined, safe, and reliable." 
About PowerLok®
PowerLok® is a next-generation rack PDU solution from Gateview Technologies, delivering a highly-reliable, fault-tolerant design with fully soldered connections throughout, rapid delivery of over 23,000 configurations at product release allowing for exceptional customization, and a smart modern design facilitating ease-of-use and safety.
Media Contact:

Jackie Lucas

Vera Voce Communication

214186@email4pr.com

978-255-1159
Related