Latest Perfomax Indexable Insert Drills Reduce the Risk of Chip Jamming
Press Release Summary: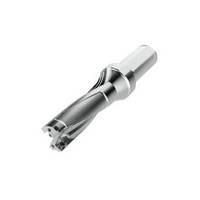 The Seco's Perfomax® Indexable Insert Drills are offered in diameters between 15 m and 59 mm in length-to-diameter ratios of 2xD, 3xD, 4xD and 5xD. The Performax flutes come with helix angles and special anti-friction surfaces that reduce contact between chips and flute surfaces. They generate shorter chips, which evacuates easily and quickly for lowering the risk of chip jamming for high application security. The units feature a hardness of HRC 60 that allows drill to withstand chip erosion for longer periods.
---
Original Press Release:
Seco Presented Re-Engineered Perfomax® for Optimized Drilling at IMTS
TROY, Mich., September 10, 2018 – Seco Tools highlighted its re-engineered design of the Perfomax indexable insert drill at IMTS 2018. The drill's innovative flute designs deliver higher drilling parameters and longer tool life as well as provide exceptional chip control and evacuation.
The new Perfomax flutes feature improved helix angles along with special anti-friction surfaces and Seco's engineered wave pattern that minimizes contact between chips and flute surfaces. The drill generates shorter chips that evacuate quickly and easily to significantly reduce the risk of chip jamming for higher application security.
The fronts of Perfomax's flutes are laser hardened for added strength, stability and accuracy. A hardness of HRC 60 allows the drill to withstand chip erosion for much longer periods of time resulting in up to 140 percent longer drill body tool life. The reengineered design of the Perfomax drill also features a bigger radius at the bottom of the drill's insert pockets for added rigidity.
In tandem with Perfomax, Seco's DS2050 and DS4050 insert grades are especially well suited for heat resistant materials like titanium and titanium alloys. The grades enhance productivity and extend tool life thanks to recently developed free-cutting MP and MC geometries. DS2050 are inserts for periphery cutting, and DS4050 are those for center cutting.
Perfomax drill bodies are available in diameters ranging from 0.594" to 2.375" (15 mm to 59 mm); in length-to-diameter ratios of 2xD, 3xD, 4xD and 5xD; and in most spindle interfaces.
About Seco Tools, LLC
Seco Tools, LLC is a leading provider of metalcutting solutions for milling, turning, holemaking and toolholding. The company prides itself on building close relationships with customers to effectively understand and address their needs. For more information on the company's products and services, please contact Bob Heery, Seco Tools, LLC, 2805 Bellingham Drive, Troy, Michigan, Tel: 248.528.5451, Email: bob.heery@secotools.com, visit www.secotools.com or follow the company on Twitter at @SecoToolsUS.
MEDIA CONTACTS:
dgs Marketing Engineers®
Chuck Bates | 317.813.2230
or
Seco Tools, LLC
Bob Heery | 248.528.5451