Latest Payment IVR Solutions Allow Administrator to Make Changes to Tree Structure
Press Release Summary: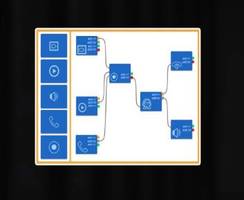 Ecosmob's Dynamic Payment IVR Solutions are crafted to match enterprise's billing, collection and payment methods. This IVR enables administrator to configure via control panel board that reduces reliability on IT service provider. The dynamic IVR sends out reminder for payment of bill and stores card number other than CVV. The entered credit or debit card numbers during payment and are translated to DTMF signal that is transmitted to bank with secure encryption for generation of one time password.
---
Original Press Release:
Ecosmob Announce Intelligent and Advanced Payment IVR Solution
Ecosmob introduction of dynamic payment IVR will help businesses engage better with customers and also help customers to make on the spot payment using their phones.
Ecosmob, a global VoIP technology innovator, announced launch of payment IVR solutions. These payment solutions find wide-ranging use in retail, utilities and government sectors as well as private sectors like healthcare, travel and hospitality.
The VP of Ecosmob detailed features of the payment IVR solution it has developed. Automation in payment, he said, reduces dependence on human personnel and also reduces chances of error and fraud. When payments are made using the IVR solution for payments and a customer enters his credit or debit card number, it is translated to DTMF signal transmitted directly to the bank with secure encryption and a one-time password is generated for transactions.
This is but one feature of the payment IVR from Ecosmob. Being a truly dynamic IVR solution, the system allows administrators to make changes to the tree structure using the control panel dashboard. This means reliance on the IT service provider is reduced and the IVR is nicely configured to reduce customer wait times avoiding frustration.
Ecosmob IVR for payment is available in English and other languages to suit global users. The dynamic IVR can be configured, for example, to send out a reminder for bill payment and offer an option to make payment by pressing a key upon which the payment IVR process starts. Payments can be made at any time of the day. Sellers can finalize order with a buyer and then switch them to the payment IVR to complete the entire transaction over phone. This is a boon for sellers in that there is less chance of a customer going away at the order stage. Should there be a problem at any stage the paying customer can always get access to a human agent and get the issue resolved.
Ecosmob IVR solutions for payments are dynamic and can be precisely crafted to suit an enterprise or institution's billing, collection and payment methods besides tying into a backend CRM for easy retrieval of existing customer's data as well as entering a new customer into the database. Card numbers excluding CVV can be stored for future transactions.
"What sets Ecosmob apart," said the VP, "is that we customize payment IVRs to suit each specific user and his business model." Such customization results in customer satisfaction, savings in cost and higher revenue generation which more than pays for investment in the payment IVR.
Interested enterprises may contact Ecosmob for payment IVR by phoning 91 79 40054019, 1-303-997-3139, email sales@ecosmob.com or chat on website www.ecosmob.com.
More from Controls & Controllers