Latest Paint from AkzoNobel Can Change Colors in Real Time
Press Release Summary: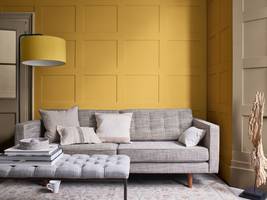 Shifts colors whenever people are present in the room
Uses biomimicry that contains modified thermotropic liquid crystals
Helps people find more balance at home, as well as in common public spaces
---
Original Press Release:
Get in the Mood with AkzoNobel's Innovative Color-Changing Paint
Inspired by nature, scientists have created a first-of-its-kind paint that shifts color with your mood: lifting your spirits when you feel down, boosting your creativity when you feel bored and energizing you when you're ready to celebrate.
Using biomimicry, experts at AkzoNobel have finally cracked the code to MoodPaint. The unique formulation contains modified thermotropic liquid crystals that respond to pheromones given off by people nearby. As the crystals move, they absorb and reflect different wavelengths of light, resulting in a paint that changes color in real time.
"Adding new and improved functionality to our paints and coatings is a priority when it comes to innovation," says Safir Pollo, AkzoNobel's Managing Director Color Innovation. "MoodPaint opens up a whole world of possibilities for adaptive coatings. All the colors you need to create a colorful space that's always right for the occasion are contained in just one can of paint."
A smooth eggshell white when it's first applied to the wall, MoodPaint starts to work within hours, seamlessly shifting color whenever people are present in the room. The product could help people find more balance at home, as well as in common public spaces.
"Research has long shown the effect color can have on human emotion and behavior," says Joke Crabbe, Color Scientist at AkzoNobel. "Soft blues can have a calming effect, energizing yellows can stimulate your appetite, grounding neutrals like our Color of the Year 2021 Brave Ground make you feel more comfortable. Now you don't have to choose just one color for your space – with MoodPaint, your walls will always follow your lead."
In the final stages of development, scientists are now fine-tuning MoodPaint technology and exploring its applications beyond decorative paint to a variety of industries. For more information on other exciting AkzoNobel innovations, visit letspaintthefuture.com/innovations/
About AkzoNobel
We've been pioneering a world of possibilities to bring surfaces to life for well over 200 years. As experts in making coatings, there's a good chance you're only ever a few meters away from one of our products. Our world class portfolio of brands – including Dulux, International, Sikkens and Interpon – is trusted by customers around the globe. We're active in more than 150 countries and have set our sights on becoming the global industry leader. It's what you'd expect from the most sustainable paints company, which has been inventing the future for more than two centuries.