Latest Ocean Software Utilizes Pseudo Container Reservation Technology
Press Release Summary: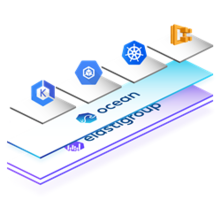 The Ocean Software is designed to provision, manage or scale underlying infrastructure. The pseudo container reservations of the ocean anticipate infrastructure requirements of future containerized workloads before reaching the capacity. The software automatically adjusts infrastructure based on container needs. The ocean spftware operates as layer between container orchestrators and IaaS providers.
---
Original Press Release:
Spotinst Launches Ocean – A Serverless Engine for Containers and Kubernetes
Ocean uses pseudo container reservations technology (patent pending) to abstract compute infrastructure and binpack containers onto IaaS resources
SAN FRANCISCO (PRWEB) DECEMBER 12, 2018 - Spotinst, (https://spotinst.com/) the creators of Elastigroup technology, is presenting a new product at KubeCon in Seattle today called Ocean, which operates as a layer between Containers and Cloud Virtual Machines.
Ocean lets developers deploy containers without having to provision, manage or scale the underlying infrastructure. The engine automatically adjusts the infrastructure based on container needs, dramatically reducing costs by maximizing server utilization and leveraging excess capacity.
Ocean ensures that containers clusters, such as K8S are running on the best possible mix of IaaS pricing model including Spot, Reserved, and On-Demand instances, yielding 70-85% less on infrastructure costs when compared to other managed solutions, freeing DevOps from management, and helping developers to deploy containers faster than ever before. It utilizes the proven Elastigroup technology (used by thousands of organizations worldwide) to make sure that all current and future Containers in the cluster have the capacity to run.
One of the main technological components of Ocean is Pseudo Container Reservations, a patent-pending discovery in the container space. It anticipates infrastructure requirements of future containerized workloads before the capacity is reached powered by Machine Learning. With it, applications will always have the capacity to scale quickly and efficiently.
Amiram Shachar, Spotinst co-founder & CEO says that "Managing the infrastructure that powers containers is becoming quite complex. Serverless technology is not only about FaaS. We're excited to provide a service which allows Containers to run without having to manage clusters or servers. It's a true Serverless experience."
About Spotinst
Spotinst was founded in 2015, currently employs over 120 people and has raised $52M in series A and B funding. The company is based in San Francisco, with its main Engineering branch located in Tel Aviv. The Spotinst DevOps Automation Platform enables businesses to reduce operational overhead and achieve maximum infrastructure efficiency at minimum cost. Spotinst increases DevOps agility by automating cloud infrastructure management, and dramatically reduces costs through intelligent workload allocation and use of cloud excess capacity. Spotinst allows developers to focus on building applications, without worrying about managing and scaling infrastructure.
Follow Spotinst on Social Media:
LinkedIn: https://www.linkedin.com/company/spotinst/ 
Facebook - https://www.facebook.com/spotinst 
Twitter - https://twitter.com/spotinst
Contact Information
Ron Harnik
Spotinst
+972 542538822
Jeremy Ruden
MSCOMMS (Public Relations)
972-52-4070775
More from Communication Systems & Equipment