Latest MXview Industrial Network Management Software Diagnoses a Maximum of 20,000 Devices
Press Release Summary: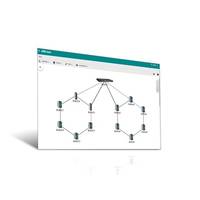 Enables user to manage large-scale networks with up to 10 sites using real-time data
Generates comprehensive reports such as inventory, traffic and availability to transform complex system into IIoT performance indicators
Can be integrated into third-party application with a web widget and RESTful API interface
---
Original Press Release:
Moxa Solidifies Leadership in Industrial Network Management with Upgraded MXview Software
Software Now Supports Higher Interoperability and Scalability to Drive Better Business Outcomes
Brea, California, May 22, 2019 -- Moxa Inc., a leader in industrial communications and networking, has released a major upgrade for its MXview industrial network management software. Enhanced compatibility now lets customers seamlessly integrate MXview into both IT and OT systems. In addition, it is possible to centrally manage large-scale networks featuring up to 10 sites using real-time, operational data to configure, monitor and diagnose a maximum of 20,000 devices.
Key to the success of the new upgrade is a faster, more user-friendly interface that provides full visibility and holistic transparency into network status. MXview will generate comprehensive reports, including inventory, traffic and availability, that empower customers to transform complex system metrics into IIoT performance indicators.
"MXview is a scalable network management tool developed to deal with the expanding industrial network requirements of the IIoT," said Theo Lai, Product Manager at Moxa. "We developed the latest version of MXview with two goals in mind: to make network management easier and to ensure that the software is simple-to-use for the best user experience."
In order to further simplify network management, MXview allows users to get the data they need from a main control dashboard where IT professionals can quickly analyze and respond to network changes so the issues can be resolved before escalating and impacting the business. Integration is simple: a web widget generates a URL enabling the integration of MXview into SCADA systems and other web-based applications where the control dashboard can be viewed from both local and remote sites at anytime. In addition to integrating MXview into OT applications, the software now supports RESTful API, which provides IT engineers with more options to manage industrial networks using their own dashboard to minimize maintenance effort.
The net result of these upgrades is more effective use of network assets, which can lead to lower costs and reduced risk.
Summary: MXview Industrial Network Management Software
Easily integrated into third-party applications with a web widget and RESTful API interface.
Central management of device monitoring, configurations, and firmware for 10 different sites with 20,000 devices.
Network dashboard provides a convenient way to check the network status.
Discovers and visualizes network devices and physical connections automatically.
Multiple options for events and notifications with self-defined thresholds and durations.
Download the free version of MXview.
Learn more at moxa.com.
Watch the MXview demonstration video.
About Moxa
Moxa is a leading provider of edge connectivity, industrial computing, and network infrastructure solutions for enabling connectivity for the Industrial Internet of Things. With over 30 years of industry experience, Moxa has connected more than 50 million devices worldwide and has a distribution and service network that reaches customers in more than 70 countries. Moxa delivers lasting business value by empowering industry with reliable networks and sincere service for industrial communications infrastructures. Information about Moxa's solutions is available at www.moxa.com.
Editorial Contacts
Hanh Seckner
Moxa Americas, Inc.
714-528-6777 (294)
hanh.seckner@moxa.com
Dan O'Connell
O'Connell Communications
708-363-6118
dan@oconnellpr.com
More from Electronic Components & Devices