Latest MT2168 XT Pick-and-Place Handler Optimizes Test Floor Processes
Press Release Summary: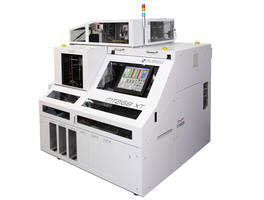 Xcerra's MT2168 XT Pick-and-Place Handler is now offered with double device detection and automatic temperature calibration options. The unit is offered with optical distance with laser that checks socket for emptiness before the next package to be plunged. The automatic temperature calibration depends on optional measurement equipment and is controlled by handler software without the intervention of human.
---
Original Press Release:
Enhancing Test Floor Performance and Quality: New options for the MT2168 XT
Xcerra's MT2168 XT Semiconductor Test Handler now available with advanced Double Device Detection and Automatic Temperature Calibration
Rosenheim (Germany), September 2018: Xcerra has added two new optional features to the MT2168 XT pick-and-place handler. Both options target optimization of test floor processes, allowing the customer to deliver enhanced quality: the Double Device Detection (DDD) option increases binning integrity; the Automatic Temperature Calibration enables the customer to meet quality standards by calibrating as scheduled without time consuming manual processes.
The Double Device Detection is based on a teachable feature, which checks the socket for emptiness before the next package will get plunged. The optical distance check with laser is based on hardware additions on the handler only and does not require any modification to the socket. Based on the distance measurement the Double Device Detection of the MT2168 is also applicable for ultra-thin packages, which is not usually the case using alternative empty check methods.
The Automatic Temperature Calibration is based on optional measurement equipment and is controlled by the handler software directly. During the full calibration process no human interactions are required, which has substantial impact on resource efficiency and process quality.
Andy Ludwig, Product Manager, comments: "Both options significantly contribute to the test floor performance and process quality. The Double Device Detection deploys an innovative principle, which makes it superior to other solutions. With the Automatic Temperature Calibration the MT2168 enables our customers to fulfill the requirements of their quality standard, while saving a significant amount of time and effort, which would usually keep his onsite resources busy for several hours."
To learn more about the Xcerra MT2168, please visit www.xcerra.com/MT2168 .
About Xcerra
Xcerra is comprised of two reporting segments; Semiconductor Test Solutions (STS) and Electronics Manufacturing Solutions (EMS). The STS segment supplies semiconductor testers, test handlers, device contactors and associated services. The EMS segment offers products and services for PCB and PCBA test as well as innovative and highly reliable interconnect components for electronic manufacturing. The combination of these businesses creates a Company with a broad spectrum of semiconductor and PCB test expertise that drive innovative new products and services, and the ability to deliver to customers fully integrated semiconductor test cell solutions. The Company's products and services address the broad and divergent requirements of the mobility, automotive, industrial and consumer end markets, offering a comprehensive portfolio of solutions and technologies, and a global network of strategically deployed applications and support resources. Additional information can be found at www.xcerra.com.
More from HVAC