Latest mSource Spend Management Platform Uses Proprietary Machine Learning Algorithm
Press Release Summary: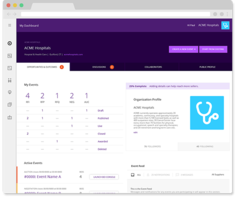 Medpricer's mSource Spend Management Platform is now enhanced with Artificial Intelligence that automatically categorizes spend in AP files. The software allows customer to discover contract's renew and expiration dates. mSource allows customer to directly upload AP files and classify the spends within less time and is suitable for healthcare supply chain application. Software enables the hospitals to spot and correct rogue and off-contract spending.
---
Original Press Release:
Medpricer Introduces Artificial Intelligence to its Purchased Services Platform
mSource® integrates AI to intelligently classify and recommend purchased services categories to healthcare clients in order to find ultimate savings potential
GUILFORD, CONN. (PRWEB) MAY 21, 2018
Medpricer, the leading purchased services cost management solution for the healthcare industry, announces today that it has integrated artificial intelligence (AI) into mSource®, the company's purchased services platform. As the first AI-backed platform for the healthcare supply chain, mSource now intelligently classifies and recommends categories using Medpricer's proprietary machine learning algorithm. Added benefits enable Medpricer customers to:
Access Simpler, Robust Analytics 
With this update, mSource's Analytics introduces AI-powered Discovery, a feature that automatically categorizes spend in AP files and learns to better classify them over time. Traditionally purchased services have been difficult to understand and categorize given the local and regional nature of the suppliers. Medpricer's proprietary spend management software is the first purchased services technology in the industry to introduce machine learning to increase the speed and accuracy of spend analysis. As a result, customers may now upload AP files directly to mSource and easily classify spend in a matter of minutes.
Discover Important Contract Expirations & Eliminate Rogue Spending 
Medpricer's mSource software has become the first purchased services lifecycle management solution to marry contract expiration to vendor spend. This feature gives customers the ability to quickly and easily assess contracts by spend in relation to upcoming renewal deadlines. Furthermore, this functionality allows hospitals to easily spot and correct rogue, off-contract spending to better improve contract compliance.
"With this AI integration, mSource learns from each user's data. Machine learning equips our software with the ability to aggregate trends across healthcare providers," explains Medpricer CTO Anton Vishnyak. "This, combined with the broader contract features, enables Medpricer to deliver the most timely and accurate sourcing insights, ultimately arming clients with the services needed to offer quality patient care at prices that won't break their budgets."
For more information, please visit http://www.medpricer.com/#msource
About Medpricer 
For more than a decade, Medpricer has helped move savings strategies forward with scalable purchased services solutions that improve sourcing efficiency and financial health. Their industry-leading software, mSource®, is the only all-in-one contract management, negotiation, and analytics platform that enables organizations to tailor contract terms to fit their unique needs – not those of a group. Engage with your purchasing data, learn from market intelligence, unite your stakeholders, and move contracts through the pipeline – faster. No catches, no hidden admin fees. Discover substantial savings and deliver outcomes that continuously improve the quality of patient care. To learn how other leading healthcare providers are transforming their savings strategy, call (888) 453-4554 or visit http://www.Medpricer.com.
Contact Information
Kim Peterson
(720) 316-4517
Related