Latest MS9321-EHV Multiple Sensor Network Camera Comes with VAST 2 Technology
Press Release Summary: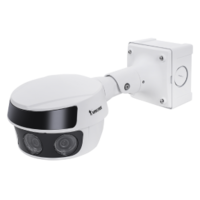 Features 4 x 5MP CMOS sensors at 30fps at all resolutions and can monitor full 180 degree horizontal views
Delivers comprehensive coverage and is ideal outdoor surveillance solution with excellent image details
Offers video analytic functions like intrusion, loitering, line crossing, unattended object, missing object, face detection, and crowd detection
---
Original Press Release:
VIVOTEK Offers License-Free Smart VCA Package Upgrade Support with MS9321-EHV Network Camera
The 20MP MS9321-EHV Multiple Sensor Network Camera Can Monitor Full 180 Degree Horizontal Views, Delivering the Highest-Quality Comprehensive Coverage, Making it an Ideal Outdoor Surveillance Solution with Excellent Image Details
SAN JOSE, Calif., Aug. 26, 2020 – VIVOTEK (TWSE: 3454), the global leading IP surveillance solution provider, is proud to announce that by upgrading to the VCA package version 6.6 for its MS9321-EHV 20MP 180 degree panoramic network camera with VAST 2 technology, users are provided VIVOTEK's Smart VCA package free-of-charge without the need for a license.
"Featuring 4 x 5MP CMOS sensors at 30fps at all resolutions, the MS9321-EHV multiple sensor network camera can monitor full 180 degree horizontal views and deliver the highest-quality comprehensive coverage, making it an ideal outdoor surveillance solution with excellent image details," said David Liu, President of VIVOTEK USA, Inc. "Like its predecessor the MS8391-EV, the MS9321-EHV has the Video Alignment feature that allows you to adjust the positioning and image quality of each sensor, enabling users to view a seamless picture, with no repetition."
The version 6.6 VCA package includes a suite of seven video analytic rules/functions:
Intrusion detection
Loitering detection
Line crossing detection
Unattended object detection
Missing object detection
Face detection
Crowd detection
Along with Trend Micro IoT Security and a weather-proof IP66-rated and vandal-proof IK10-rated housing, integrated Smart IR II technology with adaptive IR enables the MS9321-EHV's 30M 180 degree IR illuminators to adjust to the scene together or individually to provide the best possible IR image, reducing glaring hotspots and/or underexposed dark spots. With WDR Pro (120dB), the MS9321-EHV captures both the dark and bright areas of an image and combines them to create a highly realistic representation of the original scene. Lastly, combining both H.265 and VIVOTEK Smart Stream III, the MS9321-EHV can reduce bandwidth and storage consumption more than 90 percent (depending on scenes) compared to traditional H.264 without smart streaming.
For more information about VIVOTEK and its comprehensive product line, please visit www.vivotek.com.
About VIVOTEK
VIVOTEK Inc. (TAIEX: 3454) was founded in Taiwan in 2000. The company markets VIVOTEK solutions worldwide, and has become a leading brand in the global IP surveillance industry. Its comprehensive solutions include network cameras, video servers, network video recorders, PoE solutions, and video management software. Through the growing proliferation of IoT, VIVOTEK aspires to become the Eye in IoT by drawing on its expansive technological capabilities in image and audio. The company has established offices and subsidiaries in the United States (California), Europe (Netherlands), India (Delhi), Middle East (Dubai), Latin America (Mexico), and Japan (Tokyo) in 2008, 2013, 2014, 2015, 2016, and 2017 respectively. To create a sound industrial ecosystem, VIVOTEK has expanded strategic alliances with leading international software and hardware partners and works with more than 183 authorized distributors across 116 countries. For more information, please visit www.vivotek.com.
More from Printing & Duplicating Equipment