Latest Model 570 Pressure Transmitter is Embedded with Patented Pressure Sensor Diaphragm Technology
Press Release Summary: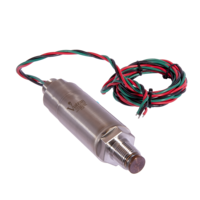 The Viatran's Model 570 Pressure Transmitter is offered with an isolated sensor design and IP67 rated welded and sealed housing. The device withstands 5x proof and 20x burst pressure at 0-1000 psis range. It is suitable for well-servicing applications such as manifold charge and high pressure pump suction measurements. The transmitter is comes with solid stainless-steel diaphragm.
---
Original Press Release:
Flush Diaphragm Pressure Transmitter Now Available for Hazardous Locations
Rugged, Reliable and Ready to take on those hazardous location applications; Viatran's Model 570 pressure transmitter with a flush diaphragm option is now available with the intrinsic safety, flameproof or explosion proof approval options needed for hazardous locations.
It also incorporates their new patented* pressure sensor diaphragm technology.
First introduced with the Model 385 flush tip pressure transmitter, this technology has resulted in a very stable unit with the high performance and data integrity needed for measuring high viscosity, crystallizing and corrosive media used in acidizing, blending, cementing and fracturing applications.
Features of the Model 570 flush diaphragm pressure transmitter include:
• Flush sensor diaphragm (zero cavity design)
• Patented solid stainless-steel diaphragm technology – *US patent 9,851,272 B2
• Isolated sensor design that eliminates installation torque effect
• Withstands 5x proof and 20x burst pressure at 0-1,000 psis range
• High accuracy (≤ +/-0.50% FSO)
• IP67 rating (fully welded and sealed housing)
Minimizing the torque effect on the diaphragm has eliminated the need to adjust the instrument after installation. The ability to withstand pressure spikes up to 5 times the 0-1,000 psis range is an improvement that extends the life of the transmitter when cavitation is a risk in the system.
Designed to meet the rigorous demands placed on pressure transmitters used for well-servicing applications including manifold charge and high-pressure pump suction pressure measurements; it is the perfect complement to our Model 511 Hammer Union Pressure Transmitters which are used throughout the industry.
For more information visit:
https://www.viatran.com/product/model-570-flush-tip-diaphragm-pressure-transmitter
About Viatran
Established in 1965, Viatran has over 50 years of experience in providing solutions for pressure and level measurement. Based in Tonawanda, NY, the company is a leading supplier of pressure transducers and transmitters in a wide range of industries, including water, wastewater, automotive, oil and gas as well as the test stand, fluid power, food and beverage industries.
For more information about Viatran, visit the company's Web site at www.viatran.com.
Viatran
199 Fire Tower Drive
Tonawanda, New York USA 14150
Phone: 1-716-629-3800
Fax: 1-716-693-9162
Toll-Free: 1-800-688-0030
Email: [email protected]
Media Contact:
Stephen Kocsis
Marketing Manager
Direct: 716-629-3818
Email: [email protected]