Latest Mini-Koter Minirollers are Suitable for Painting in Tight Areas
Press Release Summary: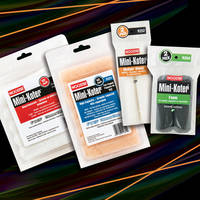 The Mini-Koter® Minirollers are available in six shed-resistant, high-capacity, microfiber, mohair blend™, foam and high-capacity yarn fabric choices in 4 and 6 in. sizes. The units are suitable for painting radiators, pipes or behind toilet tanks. Wooster also offers professional and Mini-Koter frames with polypropylene and plastic threaded grips respectively.
---
Original Press Release:
Wooster Mini-Koter® Line Gets a New Look, New Items
WOOSTER, Ohio, Oct. 1, 2018 /PRNewswire/ -- For decades, the Wooster Mini-Koter® miniroller line has remained a good solution for painting in tight areas such as behind radiators, pipes, behind toilet tanks, or anywhere else a brush or full-size roller simply won't reach. Today, Wooster is proud to announce that their Mini-Koter miniroller line has a fresh new look and several new items.
The full Mini-Koter line now offers six different fabrics in both 4- and 6-inch sizes and are sold as bagged 2-packs and clamshell 10-packs. The different fabric choices include: Shed-Resistant (offered in both a 3/8- and 1/2-inch nap), High-Capacity, Microfiber, Mohair Blend™, Foam, and High-Capacity Yarn. There are also three miniroller frames available to complement the line. The professional Mini-Koter frameoffers a full-size, polypropylene grip that is Sherlock GT® compatible. The two standard Mini-Koter frames with plastic, threaded grips are offered in 12- and 19-inch lengths. Therefore, no matter what the application goal is, there's a perfect frame and fabric combination to help painters of all skill levels achieve good results.
With all new packaging and a more complete product offering, Wooster's relaunched Mini-Koter line is the ideal value-priced, rod-based miniroller system. Ask for Wooster Mini-Koter minirollers at any traditional paint and decorating center, hardware store, and paint sundry distributor or retailer.
About The Wooster Brush Company 
Established in 1851, The Wooster Brush Company is the oldest independent manufacturer of paint applicators in the USA. Based in Wooster, Ohio, the privately held company with 650 employees produces more than 2,000 products for both professional and DIY painters. A leader in paint applicator innovation, Wooster has been developing tools designed to meet or even exceed the needs of painters for nearly 170 years. Wooster tools are available at traditional paint and decorating centers, hardware stores, paint sundry distributors or retailers, and home centers. Learn more about The Wooster Brush Company at woosterbrush.com.
CONTACT: Tim Yates, Communications & Multimedia Manager, Phone: 800-392-7246 ext. 2203
Web Site: http://www.woosterbrush.com
Contact This Company Download Spec Sheet
More from Material Handling & Storage