Latest MAXXDRIVE Gear Units are Now Offered with Extruder Flange Options
Press Release Summary: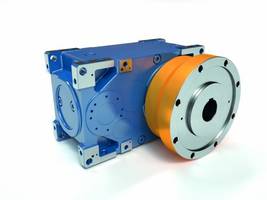 The MAXXDRIVE™ Gear Units are suitable for heavy duty applications and are offered in 5 and 6 sizes with torques ranging from 15 to 250 kNm. The units come with input and output shafts, mounting, seals and monitoring options. Nord now includes extruder flange options for rated torques between 15 kNm and 80 kNm. The gear units feature large rolling bearings that offer extremely high axial and radial load capacities.
---
Original Press Release:
Industrial Gear Unit MAXXDRIVE™: Ideal for Heavy Duty Applications
Robust, high load capacity and long life – Industrial gear units by NORD DRIVESYSTEMS move agitators, mixers, and grinders. Two additional sizes as well as extruder flanges supplement the modular series and provide new solutions for heavy duty applications.
MAXXDRIVETM industrial gear units by NORD DRIVESYSTEMS are characterised by high power density, quiet operation, and top reliability. Large rolling bearings ensure extremely high axial and radial load capacities and a long service life. The technological heavyweight drives also offer a modular, flexible design as well as varied mounting options. This makes the robust helical and bevel gear units in one-piece UNICASE housings ideal for a great number of heavy duty applications. On the basis of the industrial gear units, NORD plans complete drive systems for heavy duty operation with motors and drive electronics, for tasks including conveyor technology, pumps and agitators.

NORD now extended the successful series of industrial gear units: Two new sizes, 5 and 6, extend the previous range with rated torques of 15 kNm and 20 kNm. Offering a total of 11 sizes, the drive specialist now covers a torque range from 15 to 250 kNm. All options of the previous range are available for the new types as well.

In addition, NORD has supplemented sizes 5 to 11 (rated torques from 15 to 80 kNm) of its modular series with extruder flanges. Users benefit from generously dimensioned thrust bearings which easily absorb process forces and ensure a long service life. The "extruder flange" option can be customised to the customer's shaft and optimally matched to the customer's demands with several bearing variants.

Offering many options for input and output shafts, mounting, seals, and monitoring (temperature, vibration, etc.), NORD's extensive range of industrial gear units provide a high level of flexibility for designing demanding applications. By the way: NORD is the industrial gear unit manufacturer with the world's largest industrial gear units in a UNICASE housing.
 


Company background

A developer and manufacturer of drive technology; NORD DRIVESYSTEMS is one of the world's leading suppliers of full-scale, comprehensive drive solutions. Founded in 1965, the company has grown to include over 36 assembly centers worldwide, sales and support is available in 60+ countries and includes over 3.600 employees. This ensures short delivery times and services close to you. NORD's wide variety of gear type's cover torques from 90 lb-in. to 2,215,000 lb-in. and more. The company also manufactures motors delivering outputs from .16Hp to 1341hp, and power electronics ranging from frequency inverters to servo controllers. www.nord.com
LinkedIn : https://www.linkedin.com/company/getriebebau-nord-gmbh-&-co-kg/
Twitter: https://twitter.com/NORD_Drive
YouTube: https://www.youtube.com/user/NORDDRIVESYSTEMS
 
NORD Gear Corporation
800 NORD Drive
PO Box 367
53597 WI Waunakee
Thomas McLaughlin
Phone : 608-849-7300 x 2957
Fax : 1-888-813-2484
Thomas.McLaughlin@nord.com

Getriebebau NORD GmbH & Co. KG
Getriebebau-Nord-Straße 1
22941 Bargteheide/Hamburg
Germany
Jörg Niermann
Phone : +49 45 32 / 2 89 -0
Fax : +49 45 32 / 2 89 -22 53
Joerg.Niermann@nord.com
More from Software