Latest LDA-133 Attenuator Delivers Reliable and Repeatable Solid State Digital Attenuation
Press Release Summary: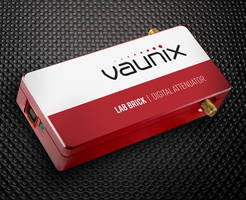 LDA-133 Digital Attenuator from Vaunix provides attenuation in the range from 10 to 13,000 MHz with step size of 0.5 dB and 63 dB. Unit is suitable for applications such as WiMAX, 3G, 4G, 5G, LTE, Microwave Radio and Satcom fading simulators. The attenuator can be operated in -30 to +70°C temperature range and is offered with two counter-bore holes for mounting and placement.
---
Original Press Release:
Latest Wideband USB Programmable Digital Attenuator Covers 10 to 13,000 MHz
Newburyport, MA – June 22, 2018 – Vaunix Technology Corporation, a manufacturer of programmable wireless network test devices, is pleased to announce the release of their new Digital Attenuator, LDA-133.
The LDA-133 Digital Attenuator is a bidirectional, 50 Ohm step attenuator. It provides fast attenuation changes from 10 to 13,000 MHz with a step size of 0.5 dB and 63 dB of control range with reliable and repeatable solid state digital attenuation. This product is sized to fit into a single rack unit for ATE applications such as; WiMAX, 3G, 4G, 5G, LTE, Microwave Radio and Satcom Fading Simulators.
The LDA-133 unit's power and control connection is from a standard USB type-B female. Two counter- bore holes are provided for efficient mounting and placement. The single channel digital attenuator is designed to operate reliably from -30 to +70 C.
Lab Bricks use a native USB HID interface to avoid the difficulties inherent in using older serial or IEEE- 488 interfaces implemented over USB. As a result, Lab Brick users can get to work faster without having to install kernel level drivers, and Lab Brick devices can be easily used on any system that supports USB HID devices, including low cost embedded computers. The Windows and Linux library APIs are designed for ease of use with Python, C#, C++, MATLAB, Java, LabVIEW and many other programming languages.
Visit vaunix.com/lda-133-digital-attenuator to download the full datasheet and learn more about this product.
About Vaunix
Based in Newburyport, Massachusetts, Vaunix Technology Corporation designs, manufactures, and services RF and microwave test equipment and communications products. Their Lab Brick product family sets a new standard for cost, size, and simplicity for USB powered, programmable signal generators, attenuators, phase shifters, and switches. To learn more, visit www.vaunix.com
Company Contact:
Scott Blanchard
Vaunix
sblanchard@vaunix.com
Agency Contact:
Leah Giunta
Strand Marketing
lgiunta@strandmarketing.com
978-463-0780
More from Computer Hardware & Peripherals