Latest Jump Starter is UL Listed
Press Release Summary: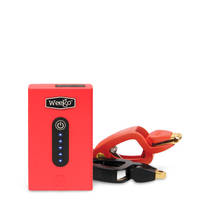 Offers peak/cranking current of 1,700A/440A and can start vehicles with up to 7L gas engines or 3.5L diesel
Features pre-conditioning functionality that provides voltage support to a lead-acid battery with low voltage
Comes with Smarty Clamps, a micro USB cord for recharging the unit
---
Original Press Release:
Get More Power For Your Pennies with the Latest Jump Starting Power Pack from Weego
WESTAMPTON, N.J. (February 22, 2021) – Weego unveils the latest in portable power with its all-new N44s Jump Starter. Rugged, purpose-built and incredibly compact – no bigger than most cell phones – the Weego Jump Starter 44s can start boats, motorcycles, and almost all of the cars and trucks on the road today. Building on the success of its popular N22s the new jump-starting power pack features the very latest in power management and delivers nearly 50% more power at the same low price.
"Our loyal customers love the simplicity of our N22s jump starter," said Gerry Toscani, CEO, Weego. "So, we decided to give them even more for less! With a continuous focus on optimization, our design team packed some serious punch into our new 44s, giving you even more power to start your boat, car or truck, and all at the same low price. The safest and most reliable jump starter on the market, our 44s can hold a charge for a year and still bring life to your dead battery." 
Offering peak/cranking current of 1,700A/440A, the Weego 44s can start vehicles with up to 7L gas engines or 3.5L diesel. Users can get over a year of standby power on a single charge and enjoy reliable operation for 1,000 charging cycles. While lead-acid batteries drain at a much faster rate, the lithium technology of the Weego 44s offers a much longer charge retention. In addition, the advanced pre-conditioning functionality provides voltage support to a lead-acid battery with low voltage or chemical issues like stratification where a battery voltage collapses under load. This typically causes other lithium jump starters to not recognize the battery. Providing minimal trickle charging to boost the voltage of very low batteries prevents this from happening and gives the Weego 44s the ability to effectively jump a battery as low as 0.5 volts. 
The Weego 44s comes with Smarty Clamps, a micro USB cord for recharging the unit, a carry bag and a quick start guide. The ergonomic, easy-to-hold and patented design of the Smarty Clamps offer a tapered tip that reach well into tight battery compartments. The extra-wide opening jaws make for an easy and secure connection, while the delivery of power on both sides of the clamps ensures a quality jump. Connection Detection technology indicates proper connections, and lights and sounds guide users through the jump. Anti-spark, reverse polarity, overheat and power surge protections are built in for added safety. The 44s is UL approved, conforms to UL Standard 2743 and is rated IP65 for water, dust and dirt resistance. 
The Weego 44s is protected by a two-year extended warranty and an extended satisfaction guarantee of 180 days. If for any reason within 180 days, customers are not happy with a Weego purchase, the company will refund the purchase price. Weego products boast a defect rate of less than ¼ of 1%. The unit is available for purchase now at myweego.com, walmart.com, amazon.com, bestbuy.com and ebay.com.
For more information on the entire line of Weego High Performance Jump Starting Power Packs, visit www.myweego.com.
About Weego
Weego is a brand of portable power products including compact, lightweight lithium-ion jump starters for cars, trucks, ATVs, motorcycles, boats, light-duty equipment, and more, complementary accessories, as well as rechargeable battery packs that charge phones, tablets, speakers, and more. Founded in 2014 by Paris Corporation, Weego has already received awards in product innovation and branding excellence in consumer electronics, auto, outdoor, marine, powersports, and office supply channels. For more than 57 years, Paris Corporation has built a reputation on quality products and excellent service and support, serving more than 30 years in the food, drug, mass, consumer electronics and hardware channels. To learn more about Paris Corporation, please visit www.pariscorp.com or contact agolden@rushtongregory.com.
Find us on social:
#Weego
Facebook: facebook.com/myweego
Instagram: @myweego
Twitter: @myweego
YouTube: youtube.com/myweego
Vimeo: vimeo.com/channels/myweego
LinkedIn: WeegoClick image to download high-res version.
To review the new 44s, please email astaples@rushtongregory.com
More from Fluid & Gas Flow Equipment