Latest Indigo-Clean 405nm M4DLIC6 Downlights are Sealed to Prevent Spread of Infection
Press Release Summary: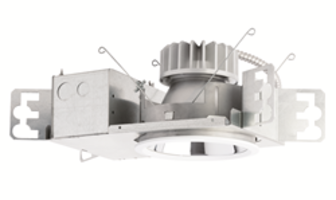 Switches automatically from blended white mode to full Indigo mode
Designed to support patient, care teams and hospital environments by killing harmful bacteria such as MRSA and staph
The LED generates visible white light, which contains narrow spectrum of indigo colored light that disinfect the air, and hard and surfaces
---
Original Press Release:
New Indigo-Clean® M4DLIC6 Downlight Provides Proven Visible Light Disinfection for Surgical Suites
Indigo-Clean introduces a new, dual-mode 405nm downlight to complement the popular Indigo-Clean M4SEDIC luminaire.
KENOSHA, WIS. (PRWEB) APRIL 29, 2019 - Indigo-Clean is now making it even easier to install visible light disinfection fixtures in surgical suites and other critical healthcare environments. The brand has debuted a new, dual-mode 405nm downlight to complement the popular Indigo-Clean M4SEDIC luminaire.
The new M4DLIC6 downlight switches automatically from a blended white mode that provides ambient light and disinfection while the room when occupied, to full Indigo mode for maximum disinfection when the room is empty. It is part of a family of lights engineered to safely support the patient, care team and the hospital environment by killing harmful bacteria, including staph such as MRSA - the luminaire is also sealed to prevent the spread of infection.
Cliff Yahnke, PhD, Director of Clinical Affairs at Indigo-Clean, said, "The new MDLIC6 will provide additional disinfection power with a nominal footprint, which can be critical in the surgical space. We are very excited to continue growing the product line and offer additional visible light disinfection solutions."
Indigo-Clean fixtures use light-emitting diodes (LEDs) to generate visible white light that also contains a narrow spectrum of indigo colored light (405 nm). This wavelength automatically, safely and continuously disinfects the air, and hard and soft surfaces. When the OR is not in use, the lights switch automatically to an Indigo-only mode, which provides a higher degree of safe disinfection.
Indigo-Clean bolsters current disinfecting efforts to reduce harmful bacteria in the environment. A recent peer-reviewed study conducted at Maury Regional Medical Center in Columbia, Tennessee, demonstrated a 73% reduction in surgical site infections (SSIs) in the test room compared to the baseline period. Preventing even a single SSI, which can increase healthcare costs by more than $25,000 per infection, provides healthcare facilities with an immediate return on their Indigo-Clean investment.
For more information about Indigo-Clean's full product line, visit http://www.indigo-clean.com or call 262-891-9200.
*per independent lab report #SGS-09516076094. Contact manufacturer for a copy of this report.
Antimicrobial Activity of a Continuous Visible Light Disinfection System by Rutala, et. al, ID Week 2016. Contact manufacturer for additional claim information.
About Kenall 
Kenall Manufacturing, an independent business of Legrand, was founded in Chicago, Illinois in 1963 and has built a reputation for durable lighting solutions of superior quality and exceptional value. Today, the company creates unique solutions for the healthcare, cleanroom/containment, food processing, transportation, high abuse, and correctional lighting markets. Kenall luminaires are designed and manufactured in Kenosha, Wisconsin, and meet the guidelines established under the Buy American Act and the North American Free Trade Agreement. For additional information, visit http://www.kenall.com.
About Legrand and Legrand, North and Central America 
Legrand is the global specialist in electrical and digital building infrastructures. Its comprehensive offering of solutions for use in commercial, industrial, and residential markets makes it a benchmark for customers worldwide. Legrand reported sales of around $7.1 billion (USD) in 2018. Legrand has a strong presence in North and Central America, with a portfolio of well-known market brands and product lines that includes AFCO Systems, C2G, Cablofil, Chief, Da-Lite, Electrorack, Finelite, Kenall, Luxul, Middle Atlantic Products, Milestone AV, Nuvo, OCL, On-Q, Ortronics, Pass & Seymour, Pinnacle, Projecta, QMotion, Quiktron, Raritan, Sanus, Server Technology, Solarfective, Vaddio, Vantage, Wattstopper, and Wiremold. Legrand is listed on Euronext Paris and is a component stock of indexes including the CAC40, http://www.legrand.us.
Contact Information
Michele McCawley
Kenall
http://www.kenall.com
2628919744
More from Architectural & Civil Engineering Products