Latest Gulfstream G550 Medevac Aircraft Offers 360-Degree In-Flight Patient Access
Press Release Summary: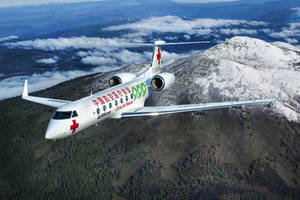 Gulfstream G550 Medevac Aircraft is designed for use in disaster relief and air rescue services. The aircraft consists of an extracorporeal membrane oxygenation, bed for an infant incubator and a gurney loading system on aircraft stairs. The G550 features refrigerated medical storage cabinets, X-ray viewing equipment, fold-out nurses' seats and crew rests with berthing.
---
Original Press Release:
Gulfstream Revolutionizes Patient Care With State-Of-The-Art Medevac Aircraft
Modified G550 Delivered To Beijing Red Cross Emergency Medical Center For Disaster Relief And Air Rescue Services
SAVANNAH, Ga., July 25, 2018 /PRNewswire/ -- Gulfstream Aerospace Corp. today announced it has designed and delivered a state-of-the-art Gulfstream G550 medevac aircraft that will revolutionize in-flight medical care.
The modified G550 was delivered to the Beijing Red Cross Emergency Medical Center during a delivery ceremony at Gulfstream's headquarters in Savannah. Gulfstream President Mark Burns and Beijing Red Cross Emergency Medical Center Director Li Libing revealed the new aircraft, as well as the center's interest in adding a Gulfstream G650ER to its fleet for the same mission.
"This aircraft showcases the art of the possible," said Burns. "When you combine innovation, talent, commitment and expertise, you can transform an industry. With this aircraft – and our collaboration with the Beijing Red Cross Emergency Medical Center – we have done exactly that. This modified G550 will change – and save – lives, forever altering the expectations for medevac support."
To be used for disaster relief and air rescue services, the G550 aircraft features an unprecedented degree of technological innovation that draws on Gulfstream's more than 50-year heritage of providing special missions aircraft worldwide. The G550 features a dedicated medical bay outfitted with advanced equipment to sustain and stabilize critically ill patients, including:
360-degree in-flight patient access, a medevac first
Advanced life-support capabilities (extracorporeal membrane oxygenation)
A bed designed to accommodate an infant incubator
A powered gurney loading system on aircraft stairs
X-ray viewing equipment
Refrigerated medical storage cabinets
Fold-out nurses' seats for individual patient care
Crew rests with berthing
Since the G550's debut, Gulfstream has continually invested in the aircraft to ensure it remains ahead of evolving customer needs. It is the most reliable aircraft in its class and can fly nonstop from Beijing to New York or London. More than 560 G550 aircraft are in service worldwide.
The flagship G650ER is the fastest large-cabin, non-supersonic aircraft to fly around the world. With up to 7,500 nautical miles/13,890 kilometers of range at Mach 0.85, the G650ER, along with the G650, has established more than 70 speed records. Today, more than 300 G650ER and G650 aircraft are in service worldwide.
"With the G650ER's speed and range, medical care will arrive faster," Burns said. 
Gulfstream continues to be a premier provider of aircraft supporting medical transport around the world. To learn more about Gulfstream Special Missions, please visit www.gulfstream.com/special-missions.
Gulfstream Aerospace Corporation, a wholly owned subsidiary of General Dynamics (NYSE: GD), designs, develops, manufactures, markets, services and supports the world's most technologically advanced business-jet aircraft. Gulfstream has produced more than 2,800 aircraft for customers around the world since 1958. To meet the diverse transportation needs of the future, Gulfstream offers a comprehensive fleet of aircraft, comprising the Gulfstream G280TM, the Gulfstream G550TM, the Gulfstream G500TM, the Gulfstream G600TM, the Gulfstream G650TM and the Gulfstream G650ERTM. We invite you to visit our website for more information and photos at www.gulfstreamnews.com.
More information about General Dynamics is available at www.generaldynamics.com.
CONTACT: Heidi Fedak, Communications, heidi.fedak@gulfstream.com, +1 912 395 8574 (office), +1 912 484 7849 (mobile)
More from Sensors, Monitors & Transducers