Latest GeoImage Microphotometry Uses 2-Dimensional Imaging Detector
Press Release Summary: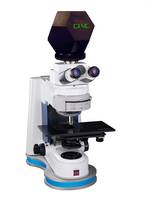 Offers autofocus capabilities and automated data collection
Designed to speed up the analytical testing process of vitrinite coals and source rock
Can be used to identify the material composition of the coal pellet through point or maceral counting
---
Original Press Release:
Automated Vitrinite Reflectance Measurements with CRAIC Technologies' GeoImage™ Autofocus Solutions
SAN DIMAS, CA – December 1, 2020– CRAIC Technologies, Inc., a leading manufacturer of scientific instruments for UV-VIS-NIR microscopy and microspectroscopy, has released autofocus capabilities and automated data collection upgrades for their GeoImage™ Microphotometry solution for Vitrinite Reflectance.
Although the use of fossil fuels is under constant evaluation due to its environmental effects, Coal Petrology is still an important field due to the diverse domestic and industrial applications of coal, from the manufacture of steel to combustion for generating electricity. Vitrinite Reflectance is one of the key techniques in analyzing coal samples as it is used to determine the grade or rank of the coal and coke as standardized by many different national and international agencies, including ISO and ASTM. While the process is simple in theory, the actual collection of Vitrinite Reflectance data for characterizing coal and other petrographic samples can be an arduous and user intensive process since hundreds of samples need to be measured per sample in order to achieve the statistical data set required for trustworthy conclusions.
The GeoImage™ system helps resolve these issues by using a 2-dimensional imaging detector to collect significantly more data than previous generations of instruments, allowing the petrographer to collect data with an intuitive point and click method. With a motorized microscope and CRAIC's autofocus software package, the GeoImage package can be setup to collect data for the whole pellet surface for later analysis by the petrographer, saving countless hours of time that was previously spent manually collecting all of the data. For samples with small grains of vitrinite or cases requiring extra care, this update also features a semi-automated mode where the instrument automatically moves to the next point and focuses on the pellet for the analyst to collect data points with one mouse-click.
"GeoImage™ microphotometers were designed to speed up the analytical testing process of vitrinite coals and source rock" said Dr. Paul Martin, President of CRAIC Technologies, Inc. He added, "The traditional process is time and labor intensive requiring a petrographer to perform hundreds of measurements per sample. GeoImage streamlines and can even automate this process if the system is configured with programmable stages and autofocus. This means that a lab can save a lot of time and money while improving the quality of their results."
Beyond collecting Vitrinite Reflectance, GeoImage systems with programmable stages can also be used to identify the material composition of the coal pellet through point or maceral counting. By combining the ease-of-use of the semi-automated pattern with a table and hotkeys for counting, the GeoImage makes point counting a breeze. Additionaly, the GeoImage™ system may be used for fluorescence characterization of coal samples.
For more information about GeoImage™ Vitrinite Reflectance Measurement Systems and coal analysis, please visit http://www.microspectra.com/products/geoimage. 
About CRAIC Technologies
CRAIC Technologies, Inc. is a global technology leader focused on developing technology and methodologies for UV-visible-NIR microscopy and microspectroscopy. CRAIC Technologies creates innovative solutions, along with the very best in customer support, by listening to our customers and implementing developments that integrate operational excellence and technologic expertise. CRAIC Technologies provides solutions for customers in the forensic sciences, biology, health sciences, semiconductor, geology, nanotechnology and materials science markets whose applications demand accuracy, precision, speed and the best in expert customer support.
Contact information:
CRAIC Technologies, Inc.
www.microspectra.com
sales@microspectra.com
+1-310-573-8180
More from Controls & Controllers