Latest GEN2 CO2 Incubator Comes with Automated Cleaning Cycle
Press Release Summary: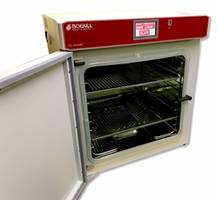 The GEN2 CO2 Incubator from Boekel Scientific is constructed from mirrored finish stainless steel interior with removable stainless-steel shelves. The unit provides accurate temperature control from +5⁰C and above 60⁰C. It is equipped with an air jacketed heating system with six sided 570 W resistive heater arrangement. The incubator features a door with a configurable alarm, a built-in heater and crystal-clear safety glass inner door. The touchscreen display of the incubator shows temperature, humidity, and carbon dioxide trend graphs.
---
Original Press Release:
The New GEN2 CO2 Incubator Manufactured by Boekel Scientific
The GEN2 CO2 Incubator is part of a new line of advanced cell culture incubators, designed and manufactured in the U.S.A, with outstanding quality, great price points, and advanced touch screen control systems.
FEASTERVILLE, PA. (PRWEB) AUGUST 27, 2018 - Boekel Scientific introduces their new GEN2 CO2 Incubator. Following on the heels of the recently launched GEN2 Refrigerated Incubator, the GEN2 CO2 Incubator is sure to impress with many desirable features, a competitive price point, and high quality. With the striking mirrored finish stainless steel interior, flexible and advanced color touch screen controller, and automated sterilization cycle, the unit is ideal for your small to large scale cell culture processes.
The GEN2 CO2 Incubator is part of a new line of advanced laboratory incubators designed and manufactured in the U.S.A with intuitive and flexible touch screen control systems. The system can accurately control temperatures from +5⁰C above ambient to 60⁰C and has an automated cleaning cycle for decontaminating the unit. The decontamination cycle uses a high temperature of 90⁰C and high moisture to rapidly reduce unwanted microbes. The air jacketed heating system has excellent accuracy, stability, and uniformity due to the six sided 570-watt resistive heater arrangement. The door design minimizes condensation with a built-in heater and crystal-clear safety glass inner door. The door also has a configurable alarm for detecting when the door has been opened for extended periods of time to protect high value cell lines. The interior is constructed of precision welded, mirror polished, stainless steel and removable stainless-steel shelving for ease of cleaning and sterilizing. The shelving design allows for great configurability to support equipment and consumables required for CHO and SF9 cultures. The system is supplied with a stainless-steel humidity pan for adding humidity to the incubator and two shelves; additional shelves can be purchased separately. The carbon dioxide concentration in the chamber is maintained using a state-of-the-art infrared sensor and digitally controlled solenoid valve. The unit is considered a medium to large size incubator with approximately 4 cubic feet of space in the interior chamber. The touch screen controller is easily viewable and uses high contrast colors to display alarms, current temperature, set temperature, current carbon dioxide level, carbon dioxide set point, and the humidity level. The user can easily control and define temperature ramp programs, alarm setpoints, timers, on/off control and control the internal power outlet based on time. The internal power outlet can be used for shaking equipment, lights, meters, or any other laboratory devices. The user interface was carefully designed to be intuitive and easily readable. The display can show temperature, humidity, and carbon dioxide trend graphs and this data can be downloaded to a USB drive or through an Ethernet connection. The incubator is ideal for standard cell culture work or high density bioproduction.
All Boekel Scientific equipment is supplied with a two-year warranty. Contact your local laboratory equipment distributor or Boekel Scientific directly for more information about this exciting new piece of equipment. Boekel Scientific is a US based manufacture of incubators, ovens, water baths, histology and blood banking equipment with over 150 years of manufacturing experience. Boekel Scientific is known worldwide for dependable instruments supporting the histology, food safety, diagnostic, medical and cell culture markets. For additional information or commercial inquiries please contact Brian Canna, Vice President of Marketing and Business Development.
Contact Information
Brian Canna
Boekel Scientific
http://https://www.boekelsci.com/
267-989-1107
More from Cleaning Products & Equipment