Vision and Imaging Sensors / Detectors
Latest FBG Fiber Bragg Grating Sensors Can be Used in Temperatures Up to 300 Degrees Celsius
Press Release Summary: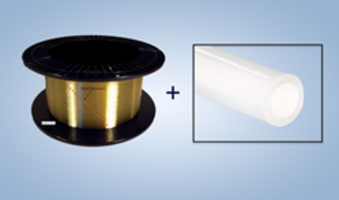 Consist of T105, T135, T155, and T175 products and are designed for harsh and rough handling environments
Feature Zeus outer layer and/or loose tubing
Suitable for applications such as distributed, quasi-distributed and multi-sensing-point applications
---
Original Press Release:
TECHNICA Releases New Family of FBG Temperature Sensors Featuring Teflon Protection
Technica's temperature sensing product line has just been enhanced to include a series of Teflon protected sensors, sensing arrays, and sensing cables for environments up to 300 degrees Celsius. These Fiber Bragg Grating sensors are non-metallic, explosion-proof, EMI immune and use Zeus' Teflon tubing and coating technologies to yield a new breed of ruggedized solutions for commercial applications worldwide.
ATLANTA, SINGAPORE AND BEIJING (PRWEB) FEBRUARY 04, 2019 - FBGs are reliable all-fiber optical components that have been used for making accurate and reliable temperature measurements for over two decades. However, due to previous technical limitations, most applications in hot harsh environments were typically off limits. A new generation of Teflon ruggedized Fiber Bragg Gratings are now available for operation in various metal prohibiting, corrosive, toxic, and chemically active environments up to 300 Degrees Celsius. Protected by their Zeus outer layer and/or loose tubing, these new sensors are now solving temperature measurement challenges in many existing and new markets. Optical sensors are widely used in industry and in research and development laboratories.
The new family of temperature sensors consists of four products (T105, T135, T155, and T175) each optimized to solve a particular set of challenges in the market. At their core, these optical sensing cables consist of arrays of Fiber Bragg Gratings (FBG). The original designs of this cables eliminate the fragility typically associated with single layer coated fibers and enable significant field installation productivity improvements. Measurements can be made at one or more individual FBG points spaced at customer defined lengths. The sensing cables are designed to make handling and installation fast, easy and intuitive and are terminated with standard optical connectors. The cables construction focuses on demanding projects that require stable operation over the long term.
Technica is pleased to work with each customer to optimize its sensors for the specific applications under consideration. Proprietary and licensed technologies are used to ensure that each sensor has a stable optical core and a matching material composition and outer diameter for device protection that is well fit for the environment in which the sensor will be used.
"This new family of sensors is designed for harsh and rough handling environments and features Fiber Bragg Grating (FBG) Arrays with various tight-buffer coating technologies inside various loose-buffer, virtually frictionless, flexible, transparent Teflon tubing. Available in a wide range of optical specifications and with various Teflon tube diameters and wall thicknesses, these daisy-chained FBG sensors designed for use in distributed, quasi-distributed, and multi-sensing-point applications up to 300 Degrees Celsius" stated Andrei Csipkes, Chief Executive Officer of Technica.
Click here to access our new family of Teflon protected temperature sensors.
Leveraging over 50 years of polymer extrusion experience, Zeus has become a world leader in building partnerships, products, and services for the benefit of customers around the world.
Technica is a leading developer, manufacturer, and provider of premium quality Fiber Bragg Gratings, FBG arrays and FBG sensing cables. The company also proudly licenses and produces an expanding family of packaged optical sensors and filters. Technica is headquartered in Atlanta, USA, with Advanced Technology and Manufacturing Centers in Singapore and Beijing, China.
Contact Information
Alice Yang
Technica Optical Components, LLC
404-326-3469
More from Sensors, Monitors & Transducers