Latest EyeC Print Inspection Systems are Now Available with Distance Measurement Option
Press Release Summary: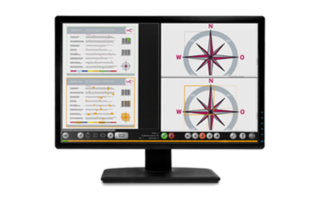 EyeC Proofiler Graphic Systems (pre-press inspection) and Proofiler DT Enhanced systems (print sample testing) come with distance measurement option that checks distances between items. Unit compares items with the defined target values and automatically notifies the operator when the measurements are outside tolerance limits. This option enables customer to perform distance measurement and print sample inspection in one inspection cycle.
---
Original Press Release:
EyeC Integrates Distance Measurement into Print Inspection
Automatic check of all distances within and between items in just one inspection cycle
Technical measurement plus sample testing or PDF proofing with just one system
Hamburg, July 11, 2018. With EyeC inspection systems, print shops and their customers can now measure their print products. In just one inspection cycle, EyeC solutions for PDF proofing and sample testing can automatically check any relevant distances across all items. With this, companies can guarantee correct positioning of all print elements and adequate distances for clean die cutting. Even products with special shapes, such as labels for technical devices, can be measured automatically.
Easy setup of measured distances
The "Distance Measurement" option is available for EyeC Proofiler Graphic systems (pre-press inspection) and EyeC Proofiler DT Enhanced systems (print sample testing). The software checks all user-defined distances within the specific item, as well as the distances between the items. The operator can set up any number of distances to be measured. The automatic edge detection makes the setup easy and reliable.
Automatic measurement of all items
During the inspection, the system compares all items against the defined target values. The system automatically notifies the operator as soon as any of the measurements are outside tolerance limits. The specification of additional warning ranges allows for timely corrective action before printing errors occur. At the end of the process, the system delivers a comprehensive report that keeps track of inspection results.
Technical measurement combined with print inspection
To save even more time, print shops and their customers can perform distance measurements in combination with their PDF or print sample inspection. In just one inspection cycle, the system measures their print products and performs quality checks such as the verification of text and graphics.
Clear display and easy retrieval for repeat jobs
Technical drawing style measurement display provides intuitive set-up and operation. Mask saving function allows retrieval of measurement settings for repeat jobs.
Significant time savings over manual inspection
"The time savings of automatic distance measurement versus manual measurement are enormous," explains Oliver Peitzner, Product Manager for EyeC Proofiler systems. "This allowed one of our customers for whom we developed the option to pare measurement time on a major order from about 17 working hours to less than six. For later orders, inspection of the same measured sections may even take only five minutes, because they are already stored and don't have to be recreated."
About EyeC
Founded in 2002 in Hamburg, Germany, EyeC is the market's only supplier to ensure the product quality throughout the entire printing process – from the first artwork file to the finished product. The product portfolio includes file-to-file comparison for artwork revision control and prepress applications, as well as print-to-file inspection systems for press sample testing and 100% print quality control of products such as folding cartons, labels, leaflets, or flexible packaging. The market's most intelligent algorithms ensure that the systems show only relevant defects. With EyeC products, users avoid recalls, keep production costs and material waste in check and optimize their quality control. Worldwide, there are over 1,800 EyeC inspection systems in use by pharmaceutical companies, printers, and branded good manufacturers. The company currently has over 60 employees in Hamburg and has international sales partners in more than 20 countries.
Virginie Gaillard
Marketing Director
EyeC GmbH
Phone: +49 40 22 63 555 - 114
Fax: +49 40 22 63 555 - 90
Email: Virginie.Gaillard@EyeC.de
Stefanie Martens,
EyeC GmbH,
Tel. +49 40/22 63 555-122,
Stefanie.Martens@EyeC.de 
More from Safety & Security Equipment