Latest EXTREME AIR-MAX Downdraft Tables Come with ROTO-PULSE Cartridge Cleaning System
Press Release Summary: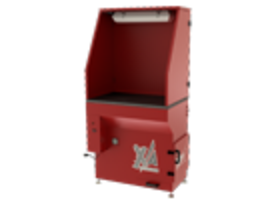 Available in XA23M, XA34M, XA46M and XA38M models with 1800, 3720, 6000 and 6000 CFM respectively
Suitable for capturing contaminants generated during welding, grinding, soldering, sanding and polishing
Features painted steel grated work surface and multiple cartridge media options
---
Original Press Release:
New Extreme Air MAX Downdraft Tables from Micro Air® Offer Breathe Easy Solutions for Clean, Safe Air in Industrial Processes
Micro Air's® EXTREME AIR-MAX Downdraft Tables provide a modular, portable and adjustable downdraft work surface ideal for capturing harmful contaminants generated in welding, grinding, soldering, sanding, polishing and a multitude of other industrial processes. They offer the flexibility to configure a worktable to exactly meet application needs, space, and worker reference. XA-MAX Downdraft Tables draw contaminants away from worker vision and breathing zones, increasing work quality and decreasing air quality hazards to workers and equipment in surrounding areas.
Exclusive to MICRO AIR EXTREME AIR-MAX tables is our ROTO-PULSE® cartridge cleaning system that provides for 30-40% better cleaning of the cartridges, therefore extending filter life. Air is pulsed into a specially designed aluminum rotating tube equipped with pre-drilled holes. As the air enters this tube, the force of the pulse causes the tube to rotate. As the tube spins, air exits the pre-drilled holes resulting in air hitting the entire inside length of the cartridge, pulsing dirt particles away from the filter and into the dust collection drawer, for a much more efficient cleaning cycle and increased filter life.
Standard Features:
250 FPM Velocities across the work surface - 1,200 - 6.000 CFM
Baffle Spark Arrestance
Fire Retardant Cartridge Filters
Roto-Pulse® Filter Cleaning System
Ergonomic Front Overhang
Hinged Filter Door with Easy Open Latches for Quick Filter Change-Out
Factory Pre-Wired Electrics
Easy Open, High Capacity Dust Collection Tray
Perforated Metal Work Surface
Mini-Helic Filter Gauge
Options:
Back and Side Shields with Hinged Wing Walls
Soft-Touch Mat on Perforated Metal Work Surface
Painted Steel Grated Work Surface
Industrial Casters / Levelling Legs
Multiple Cartridge Media options to fit specific applications
Dust Proof 24" LED Light Fixture
Manual Pulse or Auto-Pulse Cartridge Cleaning System
Silencer
99.97% HEPA After-Filter
Applications:
Dust, fumes and smoke from welding, sanding, grinding, polishing, finishing, deburring, mixing, filling, buffing and soldering operations
Models:
XA23M             24" D x 36" W    1,800 CFM
XA34M             36" D x 55" W    3,720 CFM
XA46M             48" D x 72" W    6,000 CFM
XA38M             36" D x 96" W    6,000 CFM
Micro Air, 2009 S. West St., Wichita, KS 67213
(866) 566-4276, FAX (316) 219-2995
www.microaironline.com, email: info@microaironline.com
Contact: Wendy Layton
Telephone: (866) 566-4276
More from Machinery & Machining Tools