Latest eWON Cosy Router is Now Available with Alarm Notification Feature
Press Release Summary: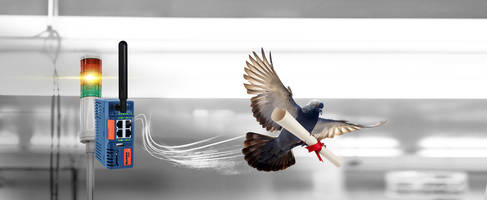 HMS' eWON Cosy Router is offered with modern user-interface, WAN fallback and 4G connectivity support. Unit sends e-mail and SMS notifications that enable user to understand the details of the issue occured in equipment or process. eWON Cosy makes the user aware of critical incidents and enables the machines to inform operators and maintenance workers about the malfunctioning and unintended process stops.
---
Original Press Release:
eWON Cosy Supports Alarm Notifications
HMS Industrial Networks announces that their award-winning Industrial Remote Access router, eWON Cosy, now supports e-mail and SMS notifications. This means that once an alarm fires, Cosy users will be able to understand where and when the issue occurred in their equipment and/or process.
The alarm notification feature is released for eWON Cosy 131 as part of a firmware update which also includes a new modern user-interface, WAN fallback and support for 4G connectivity. The new firmware is supported by all Cosy 131 versions (Ethernet, WiFi, 3G and 4G).
Thanks to eWON Cosy, connected machines can literally talk to its users. With the new alarm notification feature, users will always be made aware of critical incidents, no matter if they are on site on the factory floor or in a meeting room. The notifications can be sent by e-mail and SMS, and users can easily configure Cosy to send them directly to those who need to know.
"With eWON Cosy alarm notifications, the machines themselves can inform operators and maintenance workers when malfunctions and unintended process stops occur" says Marie-Luce Bodineau, Product Manager at HMS. "Users can both free up staff and minimize the time that is spent waiting on operators to alert staff of equipment and process issues."
For more information about eWON Cosy, or to download the latest firmware, please visit the eWON website on www.ewon.biz/products/cosy
HMS Industrial Networks
HMS Industrial Networks is the leading independent supplier of products for industrial communication including remote management. HMS develops and manufactures solutions for connecting automation devices and systems to industrial networks under the Anybus, IXXAT and eWON brands.
Development and manufacturing take place at the headquarters in Halmstad, Sweden and in Ravensburg, Germany. Local sales and support are handled by offices in Belgium, China, Denmark, France, Germany, India, Italy, Japan, UK, and USA. HMS employs over 500 people and reported sales of 101 million EUR in 2016. HMS is listed on the NASDAQ OMX in Stockholm.
HMS Industrial Networks Inc
35 E. Wacker Dr, Suite 1700
Chicago , IL 60601
USA
Phone : 13128290601
Fax : 13126292869
us-sales@hms-networks.com
HMS Industrial Networks
Stationsgatan 37
30245 Halmstad
Sweden
www.anybus.com
Michela NALIN
hone : +46 351729 93
Fax : +46 351729 09
min@hms.se
More from Packaging Products & Equipment